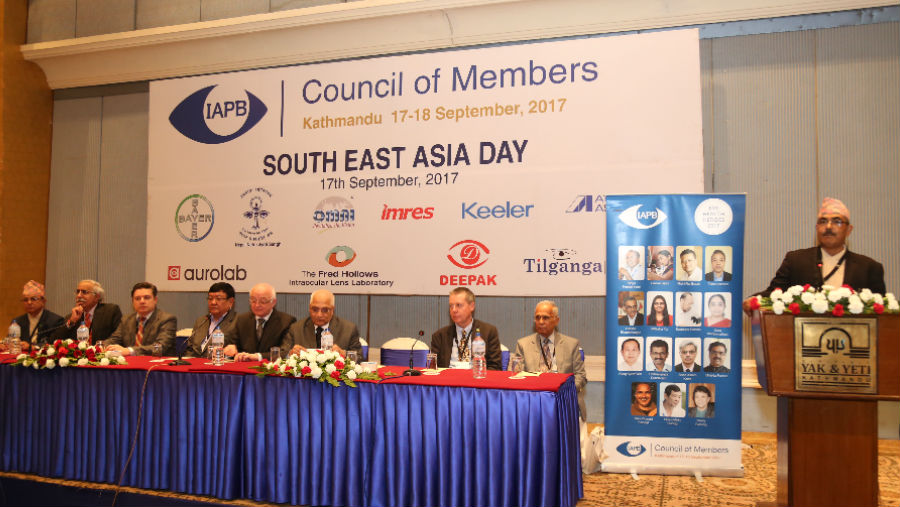 At IAPB Council of Member's meeting the South East Asia (SEA) Day was attended by almost 300 participants from over 70 organisations throughout the globe. It is considered as one of the biggest IAPB CoM meeting. The meeting was divided into seven sessions: Setting the tone, Cataract, Glaucoma, Uncorrected Refractive Error, Diabetic Retinopathy, Cornea and Eye Banking and Data session. IAPB country chair and representatives of Ministry of Health of all eleven countries of SEA region were invited and actively participated in this meeting. For the first time representatives from DPR Korea also attended and presented on the eye care service situation of their country.
In each topic the presentations were focused on: Magnitude of the problem, gap in terms of output, outcome, human and financial resources, ongoing support from IAPB members, Ministry of Health and future commitments and suggested solutions to the prominent issues identified. The eminent speakers in related topics, IAPB members, Ministry of health representative and public health experts participated in presentation and panel discussion in each topic. In summary it has been realised that there has been significant progress, in terms of service outputs, human resource development and scientific advancement in treatment has been made in eye care service in past few decades. Trachoma and Vitamin A deficiency (VADX) used to be significant cause of blindness in the past has been eliminated and in the verge of elimination process in many countries of the region. However, much needs to be done for emerging issues such as diabetic retinopathy, glaucoma and uncorrected refractive error along with persistent issues of cataract blindness in the region.
The evidences on magnitude and cause of problem, impact, service coverage along with quality of services are considered very important to plan future course of eye care services are lacking behind and more focus in operation research and data collection system need to be prioritized along with service delivery.
There was strong commitment from all stakeholders such as IAPB members, Ministry of Health and International partners such as WHO and IAPB were expressed in the meeting. The SEA day was very tightly scheduled with many important agendas successfully accomplished with; information on eye care service situation and future commitment to eye health sharing from each country of the region.