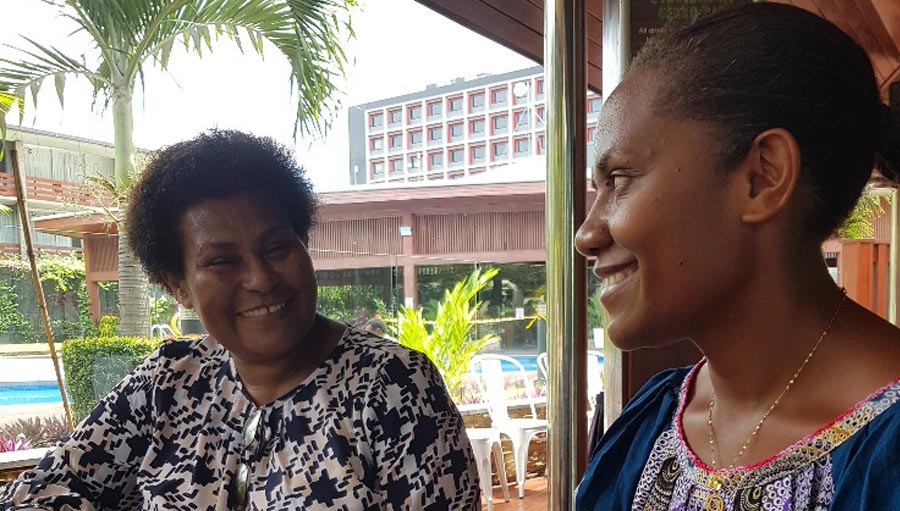 As the President of the National Prevention of Blindness Committee (PBL), and an Eye Health hero in 2016 I have been heartened by the focus on gender issues in Papua New Guinea (PNG) – particularly in my often forgotten eye health community. Last year, the Brien Holden Vision Institute and Fred Hollows Foundation Australia ran Gender in Eye Health courses, here in Port Moresby and in Islamabad, Pakistan. These courses highlighted the great work conducted by our female practitioners. One of them is Theresa Gende, my Deputy President in the PBL. For this International Women's Day I wanted to interview her so she can share a little bit more about her work in PNG.
Theresa, we know you are Deputy President of PNG PBL, but what is your day job?
I am employed by the Fred Hollows Foundation New Zealand in Madang. I am an ophthalmic clinician, with a Bachelors in Health Science and I am a lecturer at Divine Word University.
How did you get into eye care?
My first exposure to falling in love with Eye Care was in 2009 when I did my final year in Divine Word University (DWU) as a Rural Health Extension Officer in Madang, Papua New Guinea. In 2012 I was offered a Fred Hollows Foundation Scholarship to study Post Graduate Diploma in Eye Care then I was appointed as the Clinical Tutor employed with DWU. My passion grew so was the challenges ahead every day, I was teaching and supervising Adults who pose the challenge of experience.
What is it like for you in this role as a woman in PNG?
Well to say it is quite difficult when you are a woman and a young one with very limited experience, is an understatement. Because of the influence of male dominance in my society it was difficult to instruct the other gender. There was one point in my life, a great teacher told me that I was in charge of all the adult males not to feel small or intimidated by them. It has been five long years but it has grown on me, the challenges has not weaken me, "Thanks to the people who believed in me", they are countless to mention.
What was your greatest challenge?
Delivery of outreaches into the communities posed the challenge of security when you are a female, your freedom to deliver this vital service mobile is restricted. Your voice for change too is supressed when you make statements that are bold for change in attitude or behaviour for better eye health.
Furthermore, as a leader I am posed with the challenge when It comes to leading a professional organisation when your male counterparts think they deserve that post and not a young female in the lead.
What do you hope for in the future?
If one said practising eye care as a woman is easy I will swap my life with her. It is my dream that one day I can walk to a man and chat about the importance of man's eye health without the fear of gender discrimination. I always tell myself that I will take one day at a time, there is no greater service than helping my fellow citizens get better eye care service to improve their lives, if not today maybe sometime. Challenges paves way for a better tomorrow, it's not about me or you it is about someone who doesn't understand that there is help out there.
We just need to be the vehicle to drive that change.
Theresa, thank you for taking the time to talk with me today and share some of your experience here in PNG. Together we can do so much! It fills me with pride to have new women leaders in eye health in PNG – a new generation to follow in the footsteps.