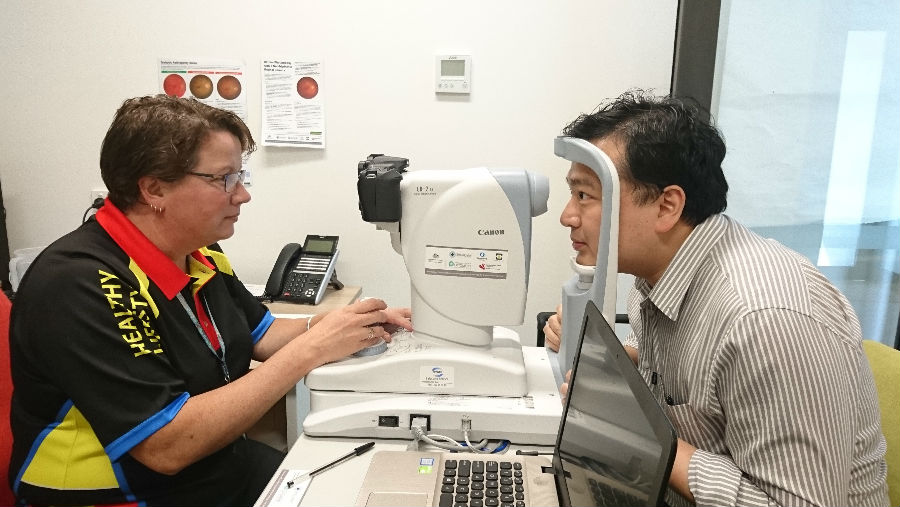 At the Australian College of Optometry, we are focussed on providing eye care services to the disadvantaged and reaching the most vulnerable.  Our Mission is to improve the eye health and well being of communities, and we have worked to achieve this through innovation, partnership and leadership in clinical optometry services, research and education since our establishment in 1940.
In 2017, we reached a lot of people through a coordinated and targeted public health programme aimed at correcting refractive error and preventing eye disease, which was done in partnership with rural practitioners. We provided over 77,000 patient consultations and dispensed almost 50,000 spectacles or other visual aids to more than 62,000 patients under the Victorian Eyecare Service.
Besides this, we also provide a coordinated programme of general and specialist clinics and outreach services across Victoria, including services for the aged and frail, Aboriginal and Torres Strait Islander people, refugees and asylum seekers, children from disadvantaged schools, homeless and other high-risk groups. Going forward the ACO seeks to adapt and expand this important public health eye care model to benefit more people experiencing disadvantage.
The Victorian Aboriginal Spectacles Subsidy Scheme (VASSS)
The VASSS is a Victorian State Government initiative that aims to improve access to high quality visual aids (e.g. glasses/ spectacles) for Aboriginal Victorians, and in doing so, contribute to closing the gap in eye health between Aboriginal and non-Aboriginal Victorians. This is an additional subsidy to the statewide Victorian Eyecare Service (VES), funded by the Department of Health and Human Services (DHHS) and managed by the Australian College of Optometry (ACO). Through this, all Aboriginal and Torres Strait Islander Victorians have been eligible to obtain spectacles for a co-payment of $10.
An evaluation of the VASSS in 2012 found that the programme was successfully facilitating access to spectacles and eye health examinations for Aboriginal people, as well as early identification of vision-threatening eye disease, and thus preventing blindness. A number of recommendations for continuing success were made and implemented.
A second evaluation was undertaken in 2016 to assess the ongoing effectiveness of
the VASSS against its intended core objectives – access to affordable and cost certain high quality eye examinations and spectacles, a suitable choice of spectacle frames, and increased uptake of eye care services. The information will be used to inform future developments of the programme in partnership with the Aboriginal community.
Provision for Eye Health and Equipment Training Project (PEHET)
Diabetes related blindness in Aboriginal Australians is 14 times higher than in non-Indigenous populations and 94% of vision loss in Aboriginal communities is preventable or treatable. We are very supportive of 
the Commonwealth Government's commitment, with guidance from the Aboriginal and Torres Strait Islander health service sector, to provide eye health testing equipment (retinal cameras) and training in primary care clinics which will increase rates of diabetic retinopathy screening by Indigenous primary health care services and supporting referral pathways for comprehensive eye examinations.
We are proud to be a member of the consortium of five organisations from across Australia rolling out this Commonwealth project: Brien Holden Vision Institute, Australian College of Optometry, Aboriginal Health Council of South Australia, Centre for Eye Health and Optometry Australia.
The goal of this project is to reduce avoidable blindness for Aboriginal Australians by supplying retinal cameras and providing training
to primary health care clinics across Australia who provide care to Aboriginal and Torres Strait Islander people. The cameras aim to support increased primary-level access to a retinal photograph for Aboriginal and Torres Strait Islander people with diabetes, triggering referrals for a comprehensive
eye examination or treatment where required. In addition, ongoing work is being undertaken to assist in integration of the cameras into the local health pathway to support positive outcomes for the community.
Through all our varied programmes we remain committed to our mission at the Australian College of Optometry: to improve the eye health and well-being of communities.
For more information please visit http://www.aco.org.au