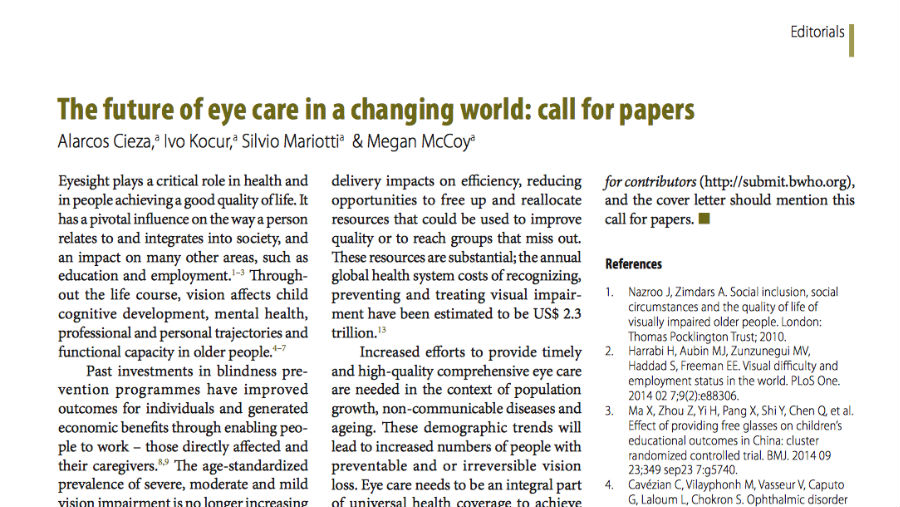 Greetings everyone!
The Bulletin of the World Health Organization has recently released a call for papers for a special theme issue on vision, and we want to make sure that everyone knows about it.
The Bulletin is one of the world's leading public health journals. It is a monthly, peer-reviewed journal with a focus on developing countries.
We are looking forward to this theme issue on vision because it will inform the World report on vision that is currently under development. The report will provide authoritative evidence, offer recommendations and help to shape the global agenda on vision.
WHO encourages researchers, professionals, government and non-government organisations and others, particularly those from developing countries, to consider submitting a paper to the Bulletin. This is call for papers is a great opportunity to share experiences, focusing on ensuring access to quality comprehensive eye care services. You can submit different types of papers to the Bulletin. If you have some experience to share, or know someone who does, please have a look at the guidelines and see what option might be best.
Finally, please visit our webpage if you want to learn more about the World report on vision. You'll find a brief outline of the early consultation and also some Frequently Asked Questions.
WHO looks forward to receiving your papers.
Also read: