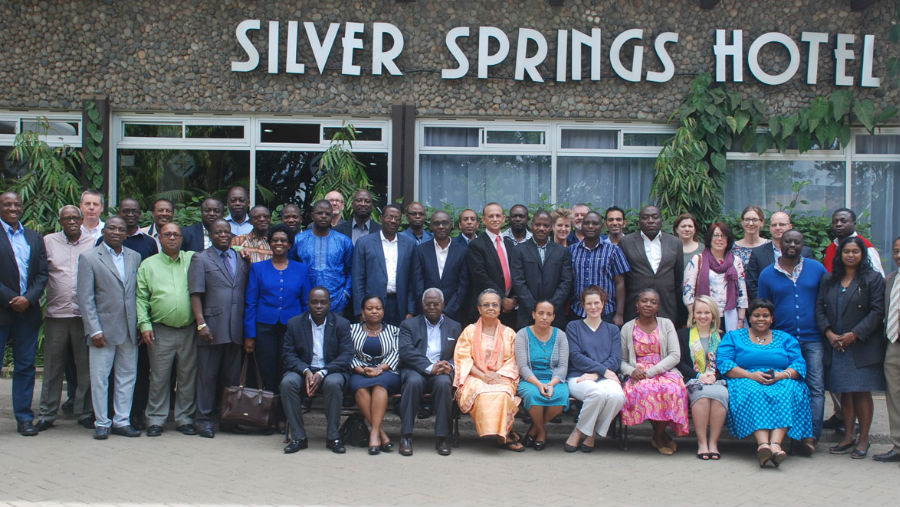 IAPB Africa started 2018 with a focus on one of our major priorities for the year: the validation of the WHO Regional Core Competencies for Eye Heath Workers in the Africa Region.  In February, WHO AFRO and IAPB held a consultation workshop in Nairobi attended by eye health experts with the overall objective of validating the core competencies required to inform training and quality of care in the Sub-Saharan Africa region.  The development of competency frameworks for ophthalmology, optometry and allied ophthalmic professionals is a critical component of the IAPB Africa HRH Strategy. This workshop marked a major milestone and the core competencies were validated.
The group also agreed on the structure of the document.  The final step in this process is for the document to undergo the internal WHO process of technical and language editing and design and layout leading to an approved and published document. The final document is scheduled for release by WHO, in English, French and Portuguese, in September 2018.
Moving on to advocacy, in Central Africa, where there are fewer IAPB members to help support the process, a different strategy is being used. We held regional meetings here in 2015 and 2016 to bring together National Eye Care Coordinators, member agencies and Directors of HRH to develop a sub-regional advocacy strategy for HReH, looking for innovative ways to take the strategy forward.. To take this forward, we held a workshop focussing on developing a consortium bid from the three sub-regional training Institutes (DRC-CFOAC, Cameroon-MICEI and Rwanda–RIIO) by identifying common priorities and then looking for potential funding sources, with IAPB member agencies supporting the process.
All the delegates and training institutions unanimously agreed on creation of a consortium of training institutions to harmonize and coordinate their actions with respect to fundraising. A decision was also made to develop a funding proposal template, pertaining to the needs of all three institutions.  This would then be edited, based on the needs, into donor specific funding proposals tailored to resonate with potential funders' priorities. The consortium will target specific funding bodies such as the World Bank and African Development Bank and also sources of potential funds and donors including corporate and multinational entities as well as governments. IAPB Africa will be coordinating the development of the funding proposal template with the consortium.
Staying with Advocacy, in 2017, IAPB and COECSA convened an Eye Health Expert's Stakeholders Meeting, in Nairobi, with a view on establishing the East, Central and Southern Africa Health Community (ECSA HC) Eye health Expert Committee.  The purpose of the group would be to develop a set of recommendations to present to the nine ministers of health of the ECSA HC region.  IAPB is now looking ahead to convene the committee which will review the recommendations from the Nairobi meeting and present them to the Directors' Joint Consultative Committee.  Once approved the recommendations will be presented to the nine ministers of health.