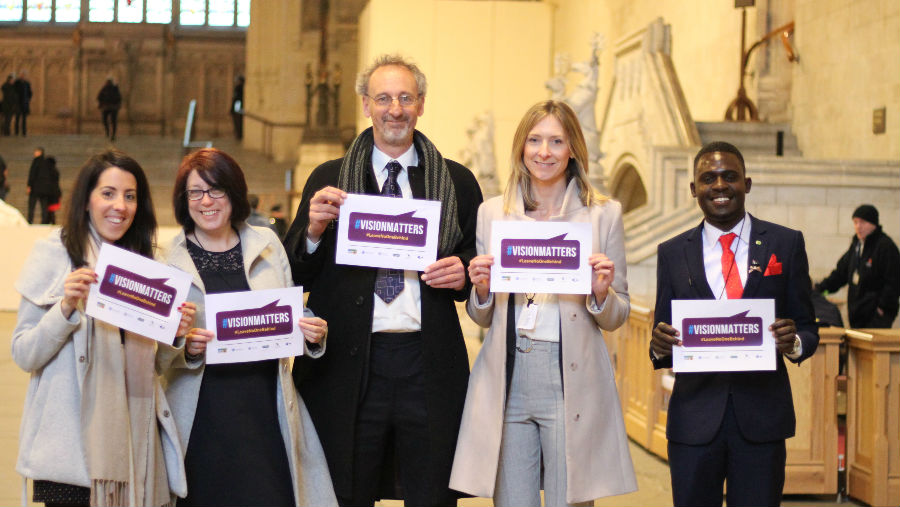 Press Release – Vision Aid Overseas hosts a call to action on Universal Eye Health Coverage at the House of Commons, London. Vision Matters: Leave No-One Behind
Organised by the international eye care charity Vision Aid Overseas, last night (20th March), a range of International Development charities, MPs, the private sector, donors and High Commissioners all came together at the House of Commons to call for an urgent increase in resources to improve access to affordable eye care in developing countries. This includes eye exams and appropriate treatment such as spectacles and is particularly focused on poorer communities and children.
Speakers Professor Rupert Bourne of the International Agency for the Prevention of Blindness' (IAPB) Vision Loss Expert Group, Nicola Chevis of Vision Aid Overseas, Chipo Mweemba, a Zambian Optometrist trained by Vision Aid Overseas and Professor Kovin Naidoo from the Our Children's Vision Campaign (OCV) called on everyone at the event to commit to:
support Universal Eye Health Coverage by 2020
allocate resources to achieve Universal Eye Health Coverage
form innovative partnerships to enable Universal Eye Health Coverage
A staggering 1.1 billion people worldwide can't see properly simply because they have near vision impairment and don't have access to affordable reading glasses. Up to twice this number suffer from sight conditions treatable with spectacles. An estimated $200 billion worth of productivity is lost every year as a direct result. And the situation is getting worse.
Professor Rupert Bourne – BSc FRCOphth MD, of the IAPB Vision Loss Expert Group, spoke of a looming crisis as the world's population grows and ages and the need for eye tests and spectacles increases. Yet most of the world's vision problems are preventable and treatable by provision of high quality, low cost spectacles. (A solution that has been around for over 700 years!).
The need to tackle vision impairment was also included at the Service of Celebration for Commonwealth Day on 12th March. This was followed a few days later by The Queen Elizabeth Diamond Jubilee Trust's launch of a Vision Catalyst Fund which aims to raise $1bn to bring "eye care to all" in Commonwealth countries. Following these events Professor Bourne told the meeting:
"More than a billion people cannot see to read and simply need reading glasses. Until recently, this massive unmet need has mostly been neglected. These observations highlight the need to respond to the WHO's Global Action Plan by scaling up of our current efforts at global, regional, and country levels, to eliminate the burden of unnecessary blindness and vision impairment."
As an example of what needs to be done, Nicola Chevis, CEO of Vision Aid Overseas, who organised last night's event alongside Henry Smith, MP, told us:
"We are now working with both the Ministry of Health and the Ministry of Education in Zambia and other stakeholders to develop and pilot a national child screening programme which will enable all children to be screened for eye care. Children who can't see properly can't learn effectively and are far more likely to drop out of school particularly if they are girls."
Ms Chevis went on to say that:
"Together with our partners and with funding from DfID, since 2013 and over a period of just 3 years we were able to screen almost 200,000 people for eye conditions in Ethiopia (with 50% being women and girls) and provide life changing glasses to over 15,000 patients. DfID-funded research in 2016 showed that after receiving treatment in the form of minor surgery or the provision of glasses, 78% of adults surveyed reported an improvement in their quality of life and an increase in household income after the treatment! Of the children surveyed and treated under the project, 73% showed improvements in their school performance since receiving treatment! The evidence speaks for itself."
Zambian Optometrist, Chipo Mweemba, a graduate in Optometry at Chainama College of Health Sciences in Lusaka spoke of the urgent need to train more eye care workers across the developing world. He told the meeting that:
"Five years ago, we only had two Zambian optometrists practicing in the entire country. That changed soon after Chainama College of Health Sciences introduced the optometry course with Vision Aid Overseas being the core advocate and sponsor of the programme. From 2013 to date, Chainama College has graduated 52 optometrists with diplomas in the field."
Mr Mweemba went on to say:
"As we are gathered here today, I would like to say that it can take just hours to change someone's life who is living in a very remote area of Zambia. I have been privileged to see this happen first-hand; when someone walks into the clinic with all hope gone and they walk out smiling with their life restored simply because they can see clearly. That is what a pair of specs prescribed by a professional, bought at an affordable price can do,"
Professor Kovin Naidoo, representing over 70 organisations who are members of the Our Children's Vision campaign, told the meeting:
"We've targeted to reach 50 million children by the year 2020, the numbers are really to govern support and get people involved but it goes beyond just the numbers. It's about creating powerful partnerships, driving awareness of child eye health, particularly Uncorrected Refractive Error, utilising local knowledge, advocating for policy change, public health education and health promotion."
The Vision Matters: Leave No-One Behind event was hosted by Henry Smith MP for Vision Aid Overseas and sponsored by Vision for Life Essilor & Specsavers. The event was attended by over 100 delegates including; corporations, funders, the Ghanaian High Commission, other international development charities and MP's.To find out more about the event, please click here