These blog posts are part of the IAPB Gender Equity Work Group's work to raise awareness of gender equity in eye health.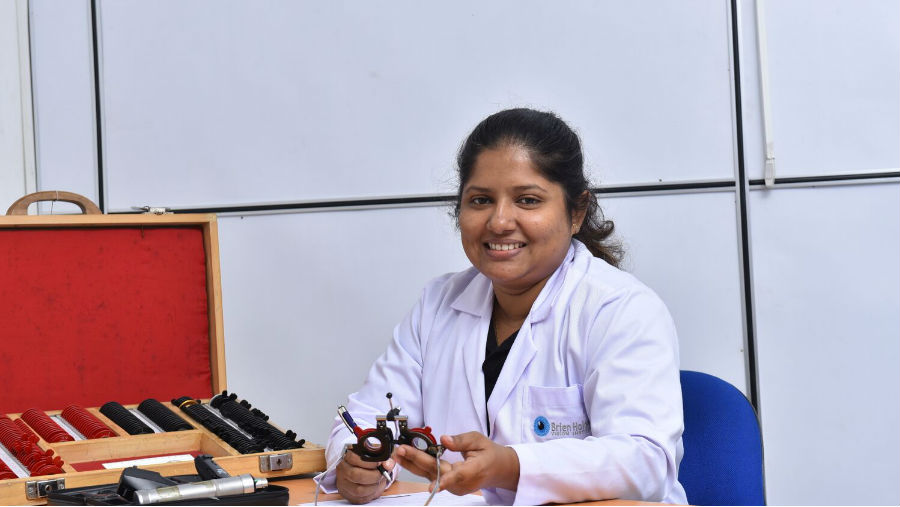 A. Nirasha Preethirathne, Vision Technician, has been working with the Brien Holden Vision Institute Foundation since 2009.
What are some of the challenges you have faced in your journey?
After my high-school graduation, finding employment was a challenge as I live in a rural area. Getting permission from my family to move to the main city for the job was also not possible. In this scenario, joining the Brien Holden Vision Institute Foundation as trainee in my home town was a blessing. The Foundation invested in my capacity building and after three years of training, I started working as a Vision Technician.
What is the one thing that has helped you get to where you are today?
I believe that the conducive and enabling work environment provided by the Foundation, for my personal and professional development, played a key role to get me where I am today. My job also became rewarding, as I'm serving my community.
Why is it important to achieve gender balance?
I work with traditional and conservative communities where many women hesitate to interact and get eye health services from male clinicians. A gender balanced eye health workforce is very important for countries like Sri Lanka where cultural taboos are still powerful and affecting the lives of millions of women and young girls.
As a woman, why are you committed to doing this work?
In the Foundation, I have this opportunity to work within an empowering culture to fulfil my social responsibilities. My presence in vision centre and during outreach activities encourages women and young girls to access eye care. Enhancing access to eye care is my biggest motivation.
How have you helped change the gender balance?
Women in my community hesitate to receive eye health services from male eye care providers and look for facilities where women clinicians are deputed. I find this an opportunity for my vision centre and make special efforts to attract more women and girls especially from deprived families. This has resulted in increased number of women and girls at my vision centre.
How is your organisation working to achieve gender balance?
My organisation strives to contribute to gender balance through the implementation of various projects and through collaborating with partners. The Foundation makes concerted efforts to bring gender balance not only at staff level but also at the level of end beneficiaries. We always promote an agile, responsive and gender-sensitive work environment for our staff.
How can we support younger women in your profession?
I believe that understanding the barriers keeping women from getting empowered; investing in education and career counselling will encourage more young girls to be part of the eye health workforce. We also need to ensure that we build their capacity as young leaders.
How can the eye health sector work towards gender balance?
Equitable gender balance in eye health sector can be achieved by creating more opportunities for young women who are planning to develop their career in eye health.