These blog posts are part of the IAPB Gender Equity Work Group's work to raise awareness of gender equity in eye health. A Mission for Vision partner story…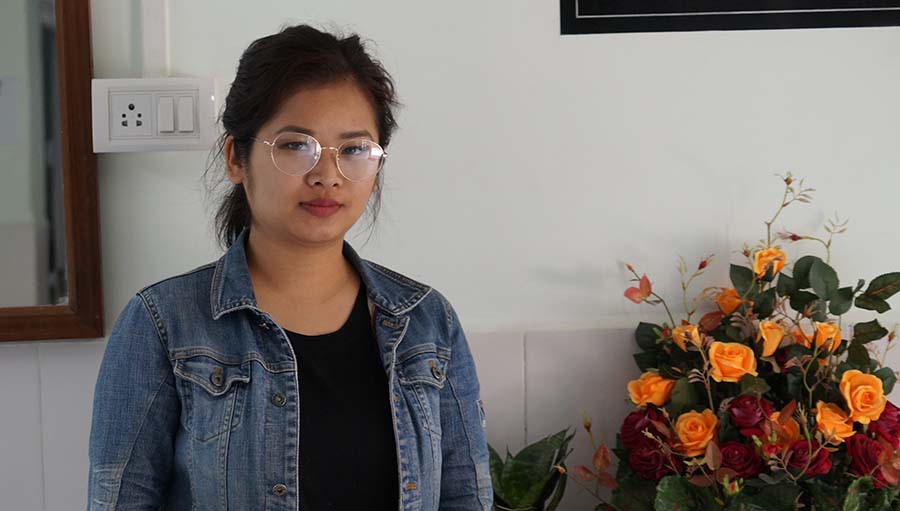 H Lalnunpuii, is a Project Optometrist at the Synod Hospital, Aizawl, Mizoram, India.
What are some of the challenges you have faced in your journey?
As a young woman, travelling 2-3 weeks every month–especially when I have to travel alone and stay at a stranger's home–is a major challenge, all the while working day and night in remote villages. Excessive travelling on bad roads and fluctuating weather conditions has taken a toll on my personal health as well. Then, there are certain cases when a patient's eye condition is not easily identifiable due to lack of equipment and resources in the field. Dealing with patients who had a bitter experience with services elsewhere is another challenge that I have to face in the field.
What is the one thing that has helped you get to where you are today?
The most important thing which has helped me get where I am today is the support from my family members coupled with the blessings from God.
Why is it important to achieve gender balance?
I think women are no lesser than men in any way and are equipped to competently handle any situation. In fact, in Mizo society this question seldom arises as both men and women enjoy similar status, authority and freedom. The women do almost all sorts of work that men do.
As a woman, why are you committed to doing this work?
I personally think that it is important for women to break barriers and do unique things to inspire other women.
How have you helped change the gender balance?
I have in my role as the project optometrist, handled challenges which even some men would find difficult and have proved that I could run the project as good as anyone else regardless of gender. When it comes to delivering at work, I am no lesser than my male colleagues in the team.
How is your organisation working to achieve gender balance?
I highly appreciate that the eye department of Synod Hospital is headed by Dr Lalrindiki who is a soft-spoken but very strong and determined woman. She is continuously working towards developing the department. There are two other women ophthalmologists and 15 other female staff within a work force of 28 people. The department regularly looks into the capacity building and empowerment of its employees and sends them for various training programmes with support from partners like Mission for Vision.
How can we support younger women in your profession?
Increased training for younger women in various cadres of eye care work should be supported. They should feel empowered to serve the community.
How can the eye health sector work towards gender balance?
In general, I see tremendous opportunities for women in the eye care sector. But there should be more recruitment and training of the female eye care workers in various cadres.
Nunpuii's story was put together by Shubhrakanti Bhattacharya, Senior Manager–Programme Development, Mission for Vision.