On World Prematurity Day, Shad Husain, a neonatologist in the UK who supports our workshops as faculty in Romania and Russia, on his work and key obstacles that need addressing to treat and prevent ROP.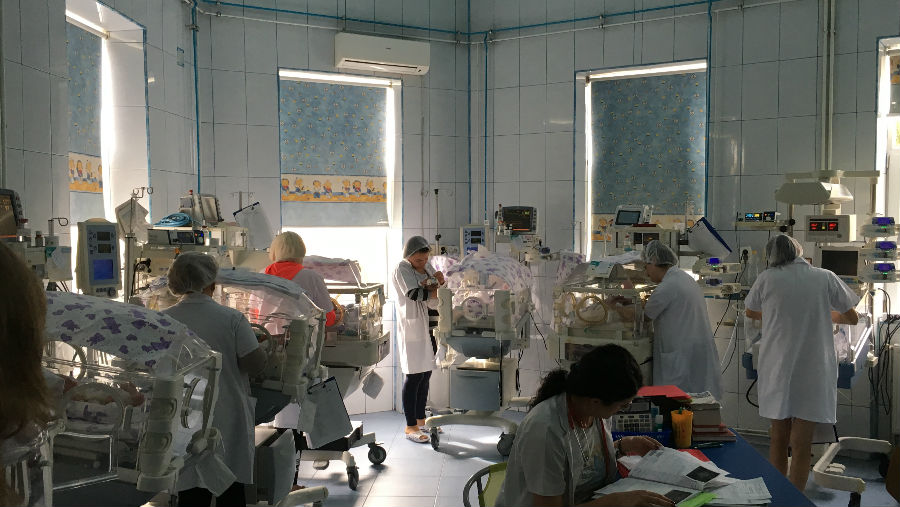 Preterm babies are at risk of developing an eye condition called retinopathy of prematurity (ROP). If left undetected and untreated, the severest forms of ROP can cause blindness from infancy. This devastating outcome can be prevented by establishing ROP programmes that minimise the risk of severe ROP and ensure that all babies at risk are screened and treated if required.
As a neonatologist at a tertiary neonatal unit in London, England I work in an environment where a successful ROP programme has been in place for over 20 years. Key elements that led to this success include:
development and implementation of national ROP screening and treatment guidelines,
development and implementation of antenatal, perinatal and postnatal clinical guidelines,
service organisation and adequate resource provision,
collaboration between clinicians and with parents,
national data collection on maternal and newborn outcomes, and
audit of local clinical practice against national standards.
Clinical practice influences the risk of ROP. As the ROP lead on my unit, my roles are to ensure that the clinical care we deliver minimises the risk of ROP and all babies are screened according to national guidelines. We achieve this by collaboration between nurses, neonatologists, ophthalmologists and parents. Our ROP service is audited annually.
Unlike the UK, ROP is an important cause of childhood blindness in middle-income countries. To fulfil its mission of tackling preventable blindness, IAPB and supporters sponsor teams of clinicians to visit neonatal units and participate in ROP workshops in Eastern European countries. As a member of some of these teams, I have developed an early understanding of the reasons for ROP-related blindness in these countries.
ROP in middle-income countries
Equipment and good clinical practice are required to minimise the risk of ROP. For example, exposure to high oxygen concentration from the time of delivery increases the risk of severe ROP. Some units lack air-oxygen blenders and/or piped medical air and are forced to use high oxygen concentration. Remarkably, one unit in Kyiv had overcome the lack of medical air by installing a series of air compressors on the unit. Another in Timisoara was using differential air and oxygen flow rates to adjust the oxygen concentration.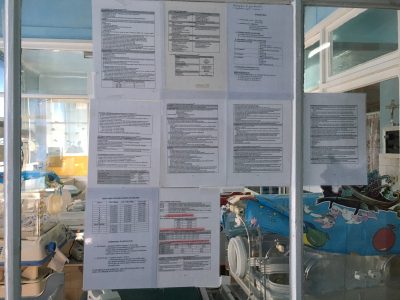 I saw many examples of good clinical practice: early use of non-invasive respiratory support in Cluj, all mothers in attendance at feeding times (I have never seen this wonderful sight before!), clinical guidelines attached to corridor walls of the unit in Timisoara, and close collaboration between neonatal teams and ophthalmologists in both cities. Unfortunately, poor clinical practice was also evident, particularly in Level 1 and 2 units. For example, preterm babies receiving supplemental oxygen were saturating at 100% without any action being taken to reduce the inspired oxygen concentration.
Key obstacles
Some of the obstacles in Eastern Europe that should be addressed include:
lack of awareness of ROP and its outcomes amongst parents and primary care physicians,
lack of dedicated ambulance service for sick newborns,
non-adherence to agreed patient pathways, and
shortage of nurses and ROP trained ophthalmologists.
These obstacles are not insoluble and successful ROP programmes can be established. Over the past 20-30 years in the UK, clinicians, with the support of central health departments and professional organisations, have developed services to minimise the risk of severe ROP. We work to ensure that all babies at risk are screened and treated in a timely manner.
My trips to Eastern Europe were made enjoyable by the warm welcome of our hosts, their hospitality and our frank discussions. The trips provide an insight into ROP programme barriers that would not have been possible by other means. It is clear that most Eastern European clinicians providing care for babies recognise the need to establish ROP programmes and I will continue to encourage and support their endeavours.
Top image: Mothers in attendance during feeding times
Image on left: Clinical guidelines attached to walls on the unit
Photos courtesy: Shad Husain
Today is World Prematurity Day! Do check out our other stories
You may also want to read: