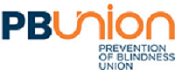 One of the quality assurance measures of the Jordan Diabetic Retinopathy Project is to conduct 'patients satisfaction study' in order to institute measures that will improve quality of patient care.
The study was contracted to by Sana Abu-Dahab, PhD, OTR Associate Professor Faculty of Rehabilitation Sciences of University of Jordan, at the eye clinic of Princess Basma Teaching Hospital- a major tertiary project hospital in Irbid-Jordan.
Following is the executive summary of the study, along with the recommendations provided:
Executive Summary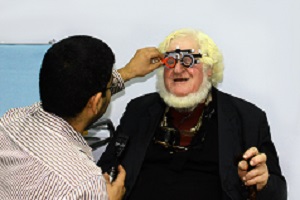 This study aimed at assessing the satisfaction of patients with diabetic retinopathy with the provided services at the Eye Clinic-Princess Basma Hospital, Irbid/Jordan.
A convenient sample of patients with diabetic retinopathy (N = 200) were interviewed by trained research assistants over a period of two weeks in September 2014. Male and female patients with diabetic retinopathy over 18 years of age were included in the study. A translated version of the Patient Satisfaction Questionnaire (PSQ-III) – Long Form (RAND version) was utilized along with two open ended questions related to concerns about the services and suggested recommendations.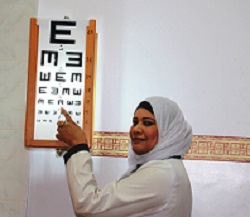 The 50-item PSQ-III was translated to Arabic according to the World Health Organization (WHO) guidelines for translating and adaption of assessment tools and was piloted with patients with diabetic retinopathy before the conduction of the study. Data following the interviews were coded and entered into SPSS (version 20).
Descriptive statistics were calculated for patients' demographics, General Satisfaction, and all other aspects of satisfaction as defined by PSQ-III. Pearson correlations and Kruskal-Wallis test were used as appropriate to assess any possible correlations between any of the satisfaction subscales and patients' demographics.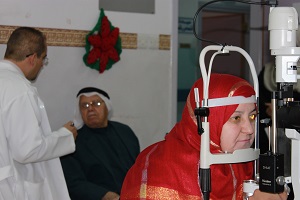 Results revealed that patients with diabetic retinopathy visiting the Eye clinic at Princess Basma Hospital were generally satisfied, but not highly satisfied, with the provided services except for Interpersonal Aspect of satisfaction as measured by the PSQ-III. Correlations with age were not clinically significant, as for gender, female patients seemed more satisfied than male patients except for time spent with doctors.
Through the open-ended questions, patients expressed their concerns regarding some logistics and organization at the eye clinic including needing a referral from a local healthcare centre before accessing services and lack of clear process within the clinic.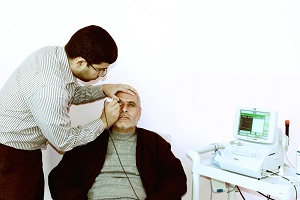 In addition, patients were concerned about the availability of some resources at the clinic such as eye drops as well as equipment hygiene. Finally, some patients felt that doctors working at the clinic need to give more details regarding their condition as well as needed lab work.
In conclusion, patient with diabetic retinopathy seems to be satisfied with the provided services at the Eye clinic at Princess Basma hospital, however, this satisfaction is not optimal and can be improved. Several recommendations are suggested to improve the provided services and increase patient's satisfaction.
Recommendations
Based on the results of this study, the following is recommended which may help increase patients satisfaction with provided services:
1- Increase the doctors' awareness regarding the importance of doctor-patient communication including avoiding medical jargon, simplify and clarify diagnosis and expected prognosis, as well as active listening to patients. Probably information leaflets describing the disease, treatment and prognosis in plain language may be produced for distribution to patients.
2- Investigating the need of patients' to get a referral from the local healthcare facility to have access to the Eye clinic.
3- Adding a diagram or written instructions in the waiting area of the Eye clinic which delineate the procedures within the clinic.
4- Applying a turn-taking system to ensure fairness and equality between patients.
5- Emphasizing periodic sterilizing of equipments as well as healthcare professionals hand hygiene in between patients.
6- Following up with medication and eye drops availability at the Eye clinic.
Author: Dr. Sana Abu Dahab

Contact: Wa'd AbuZurayk
Project Manager, Prevention of Blindness Union, Jordan