Achievements in Nigeria – Seeing is Believing project
Lasting achievements highlight the completion of a five year project which aimed to drastically reduce prevalence of blindness, eye disease and vision impairment in the Federal Capital Territory (FCT), Nigeria. The Seeing is Believing Phase IV project funded by the Standard Chartered Bank recorded positive figures of impact during the year 2011 to 2015 across education, infrastructure and service delivery initiatives.
These impact figures include screening of 218,958 people and of those 14,942 received spectacles, 996 received low vision devices and 786 cataract surgeries were performed, giving new sight to many beneficiaries. There were a total of 1460 government personnel trained across the necessary levels of eye care and it was estimated 2.5 million people received eye health education messages through print and electronic media.
The FCT Health and Human Services Secretariat under the Public Health Department led the implementation of this initiative with the International Agency for the Prevention of Blindness (IAPB) which was managed by the Brien Holden Vision Institute. The consortium of organisations working collaboratively under the Institute's management had diverse objectives with each having its own target to achieve.
Some of the objectives achieved were in service delivery, human resource development, infrastructure and equipment development. Such objectives made it possible for the integration of skills, knowledge sharing and expertise. The project established and strengthened eye care centres in Kubwa and Bwari General Hospitals, and introduced new services namely: eye surgery, optical dispensing, and clinical low vision care.
Achievements and the lessons learnt are highlighted below:
1. A strong intra-sectoral partnership is critical to the success of a project with multiple government departments. Government departments are independent in structure and appear parallel in functionality. In the project, it became very clear the importance and benefits of establishing relationships at the beginning and bringing the players together to identify roles and responsibilities for each partner. Clearly defined roles and responsibilities of each partner at the onset of a project equals profitability and success.
2. Any ambiguity in the project design needs to be clarified. Sometimes new tasks may emerge in the course of implementation and it is therefore helpful to present new assignments, even small ones, to all stakeholders. Encouraging partners to volunteer rather than assigning the new roles out is the better solution and it is beneficial to invest in regular meetings for feedback, reporting outcomes to all implementing partners to promote and sustain good relations. These practices were beneficial in motivating and building team spirit for service delivery.
3. Implementing a School Eye Health Project led by the Ministry of Education with the support of Ministry of Health is an efficient solution. The project model followed was led by the Ministry of Health and was a comprehensive project with a school eye health component. This made it a more challenging negotiation than a stand-alone school health project.
4. Realistic initial targets with increasing levels over time, coupled with logistics support and adequate supervision will ensure success. The project discovered professionals involved were willing to perform the necessary tasks, if targets were realistic and encompassed capacity for increased activity, especially when expected output far outweighed normal routine. There is need for program planners to carefully consider current outputs of prospective project areas when indicating initial target figures.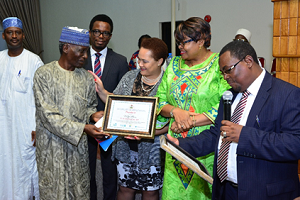 Mr Hasan receives award during SIB Project Close out event July 2015

Dr. Anne Ebri
Project manager
Brien Holden Vision Institute Nigeria
---
For more SiB research, click here.