Orbis China – Child Eye Health project
One year after school- and community-based screening initiated, many hospitals identified low referral rate and referral update rate in SiB Shanxi CHEER project although a two-way referral networks was established for referral from screening to hospitals and low vision/ rehabilitation at different levels, to early educational intervention in schools and at home (Figure 1). This networks aims to provide children holistic eye health services in terms of prevention, treatment, rehabilitation and early education. How to strengthen the networks became a critical issue and a top topic between hospitals and NGOs at project meetings. We are addressing this issue through following strategies:
Ÿ Train head teacher in school screening or hold health talks among head teachers to improve low referral rate: It has proved that head teachers were much more accountable than physical & education teachers who were assigned for schoolchildren's health by education system. Every class has one head teacher who is in charge of coordination between student and the school/parents.
Ÿ For addressing low referral rate from village screening: We invited hospital staff to visit peer hospital to learn how to effectively conduct screening training, and participate in home visit in order to understand how functional assessment and early educational intervention can help children with visual or multiple disabilities. Then they became confident and proactive in convincing key informants to find and refer cases. Also, we encourage hospitals to identify one lead key informant who loves and dedicates in village screening to be role model to others. School children also played important role in referring non-children in their community
Ÿ Multi-sectors professionals work together to strengthen the referral networks. We took multi-sectors staff (e.g. medical professionals, teachers, and rehabilitation workers) to visit children with visual or multiple disabilities for hands-on training and demonstrating how to work together. Different subspecialty ophthalmologists, particularly paediatric, retina, glaucoma, neurologic ophthalmology, were sensitized on how low vision service could help patients they could not treat. Special educators were also trained to make sure every child in the special/blind school had appropriate eye examination to avoid neglecting children whose vision can be improved by medical treatment or low vision service. We also planned to train ophthalmologists, refractionists, low vision staff, and resource teachers to work as a team in next quarter..
Ÿ Constant eye health promotion also helped strengthen referral networks because it gradually raised awareness of children, educators, and families. We used IEC materials such as leaflets, posters, short video on popular social media (WeChat), and eye health talks on TV and at schools, etc.. Eye health education was embedded into most regular work, including screenings, clinical work, support groups (e.g. parents groups, teachers groups, special educators groups, project management groups, etc.) on social media, and so on.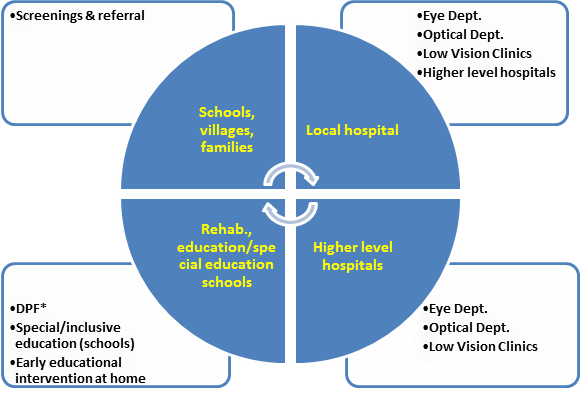 Ÿ
Remark*: Disable People's Federation
Ÿ Figure 1: Two –ways referral pathway
---
SEVA India & LV Prasad Eye Institute India
This story highlights the work that LV Prasad Eye Institute did in response to poor geographic representation within some of their mentee hospitals.
Naraindas & Morbai Budhrani Eye Centre was established at Rayagada District, Odisha in August 2015 and provides eye care services to all needy people of Rayagada district and surrounding areas. When SCALE started in April, LVPEI visited the hospital and saw that the people who have their own transportation and come from nearby villages (around 6KM radius) are accessing the services at the centre. However, people living beyond 10 Km distance who do not have local transportation facilities are not coming for eye care services. Furthermore, there is a lack of awareness among these people further away about timely treatment of eye care problems.
Realizing these issues, LVPEI organized a meeting for administrators from four hospitals. The workshop reviewed the current performance and developed a plan to increase the reach of the hospitals. At the beginning of the training, participants mapped all the villages in the target areas. They then consulted the key opinion leaders of each village, and made a weekly/ monthly roster for community eye care programmes planned in the coming year.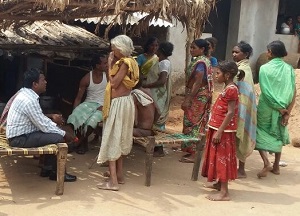 The eye centre planned to start its eye care community outreach activities in and around a 20-30 KM radius from the centre.
A community outreach team (Community coordinator, Field worker and Driver) were selected and given training at LVPEI's Gullapalli Pratibha Rao International Centre for Advancement of Rural Eye care (GPR ICARE) Hyderabad.
Following the meeting in the first quarter, the community team is in the process of covering all identified areas/villages one by one and continues to follow up with the people treated for eye diseases.
We look forward to reporting on the change we expect to see at the Naraindas & Morbai Budhrani Eye Centre.

Heidi Chase and
Director, Innovation & Sight Program
Seva Foundation

Jyothi Korani
Assistant Public Health Specialist
LVPEI
---

Sightsavers Tanzania
Training of Primary Health Workers (PHWs) – This training has increased the capacity of PHWs from the health facilities to mobilise and provide primary level eye care services to their respective communities.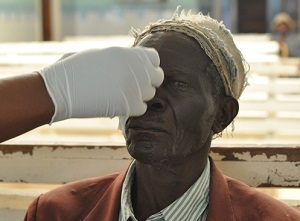 Dr Erick Bakuza, the Singida Rural District Medical Officer when closing one of the sessions for the Primary Health Care Training, in his district said 'I will continue to educate people and create awareness of eye health during community meetings and I am proud to close this training at my district. I believe it is a very good training in our effort to achieve the elimination of avoidable blindness in this district. I'm also thankful for Sightsavers and our donors for their support in my district'.
Right now, he is working with his team to ensure that people are aware of eye care health and is gearing up for the next outreach event at his district.

Koronel Kema
Programme Manager
Sightsavers Tanzania
---

The Fred Hollows Foundation China
Business Model of Vision Centre: Two Pilots in Public and Private System
It was widely believed in rural areas of China that wearing glasses would make eye sight worse due to the lack of quality optometry service. China has the highest prevalence of myopia in the world, however, it is still lack of an effective approach to meet the huge needs. Seeing is Believing Phase V Inner Mongolia Project piloted two different models of establishing sustainable vision centers to provide high quality and professional refraction and glasses dispending services with in rural areas.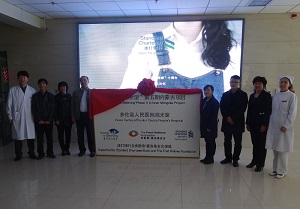 One model is to establish vision centers within public general hospitals. There is a lack of policy in China to support public hospitals running vision centres and providing spectacles which are considered as commercial business.
To mitigate the challenge, the project partner hospital cooperated with Disabled Persons' Federation which allows to support public hospital providing low vision services by set up a vision centre. There are three vision centres in public hospitals established with the support of the project. They are the first centre in local counties to provide professional optometry services.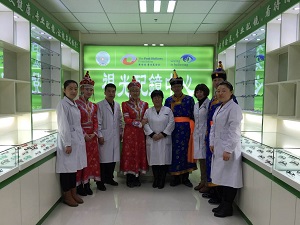 Another model involves the private sectors. Private hospitals have their own authorities to set up commercial model of vision centres within the hospitals. They have more flexibilities on applying marketing and promotion strategies, such as advertisement and sales.
The project supported training optometrists in four vision centres of Chaoju Eye Hospital group, which is one of the major chain private eye hospital in Inner Mongolia.
The hospital contributed on equipment and facilities of set-up the vision centres, and agreed to provide low-cost services to meet the needs of rural poor.
Overall, both pilots work well in these two different systems. The project also provides a platform for both public and private sector to share their successes and trying to introduce to each other. With more than two years' operation, there is a steady increase of service volume and income in all seven vision centres. Other factors such as local hospital based hands-on training for local optometrists, primary eye health training for school teachers, large scale school screening and school eye health education sessions, as well as promotion strategies applied by local partners have all contributed to the success.
Author:

Ms. NI Ming,
Senior Project Office,
The Fred Hollows Foundation China
Co-author:

Ms. Amanda Huang,
Senior Program Manager,
The Fred Hollows Foundation China
---

Operation Eyesight Universal Kenya
Building the Capacity of Eye Health Staff and Facilities in Kenya
Before Agnes Maiyo began working as an ophthalmic clinical officer/cataract surgeon at Iten District Hospital in 2008, the hospital didn't offer any eye care services at all. When she returned from her training with the Kenya Medical Training College to take charge of eye care in Elgeyo-Marakwet County, the only diagnostic equipment she had was a torch pen. The hospital had run for 23 years without an eye care worker, which meant Agnes had to start from scratch.
Prior to her training, Agnes had worked as a clinical officer in the hospital's outpatient department, and after her training she had no choice but to continue working from the same room, since the hospital didn't have space dedicated to consulting with eye care patients. Adding to the challenge, the hospital management team didn't prioritize eye care as a health issue.
Even though Agnes requested that her colleagues send patients with eye conditions to her, she didn't receive many referrals. Having spent the last two years training to become an ophthalmic clinical officer and cataract surgeon, Agnes was disappointed to say the least.
"I wasn't happy, and I was contemplating requesting to be transferred to another hospital with a functional eye clinic," explains Agnes. "I felt underutilized and my training was becoming useless to me and to my community. I felt out of place."
In 2011, things took a positive turn when Operation Eyesight Universal began supporting the delivery of quality eye care services in Elgeyo-Marakwet County. The hospital received its first diagnostic equipment, including an ophthalmoscope, retinoscope, trial box, slit lamp and operating microscope. Encouraged by this, the hospital set aside what was previously its injection room to serve as an eye unit. With support from SiB Phase III, the eye unit was expanded and renovated. By this time, Agnes was seeing an average of four patients per week.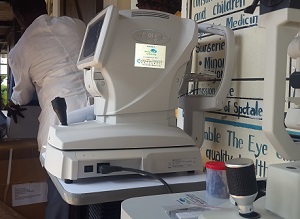 Some of the ophthalmic equipment donated to Iten Eye Unit by SiB.
Through the continued support of Operation Eyesight Universal, the county health management team was educated on primary eye care. Community health extension workers and community health volunteers were also trained in primary eye care. "This was when my career in eye care really took off," says Agnes.
Previously, patients with eye conditions had to make the long, expensive trip to Moi Teaching and Referral Hospital in Eldoret, or they resorted to folk remedies. Most patients in need of eye surgery resigned themselves to a life of pain and visual impairment. As eye health awareness was created in the communities surrounding Iten, however, patient traffic to the eye unit began to increase. By the end of 2011, the eye unit had screened 5,205 patients and performed 110 cataract surgeries, both at the clinic and during outreach programmes in remote communities.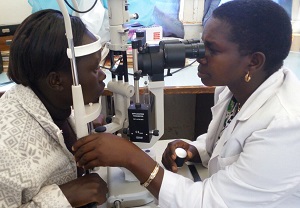 Agnes examines a patient's eyes at Iten Eye Unit
In the last eight years, under Agnes' charge, 35,291 patients have been screened and 2,657 surgeries have been performed, of which 1,078 were cataract surgeries. Through her advocacy skills, Agnes has helped turn an indifferent hospital management team into an ally supporting her eye care work in ways she never thought possible.
"I also leveraged the external support from Operation Eyesight Universal and SiB to advocate for more support from the county government, which continues to support our service delivery by providing intraocular lenses and eye drops, and by helping facilitate outreach programmes," says Agnes.
In 2013, sustained advocacy efforts led to the establishment of a satellite clinic in Chepkorio, 50 kilometers south of Iten. The county government plans to establish another satellite eye clinic in Kerio Valley. In response to the tremendous increase in the number of people seeking services at Iten Eye Unit, the county government has also allocated land at the hospital for the construction of a bigger eye unit and has invited partners to support the venture.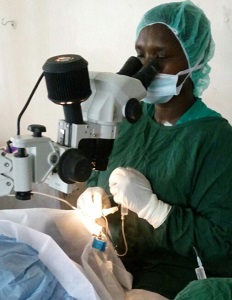 Agnes performs surgery at Iten District Hospital.
Agnes is pleased to see that the eye care situation in her county has improved. "I'm delighted with the progress we've made in improving access to eye care services," she says. "People are getting their lost sight back and many more know that they can always count on our eye clinic to treat their eye conditions."
Agnes is grateful for the support she's received from Operation Eyesight Universal and SiB, which has allowed her to advance her career in ophthalmology and deliver quality eye care to those in need. "The future of my career is bright," she says. "I can only see eye care growing in Elgeyo-Marakwet. Thank you!"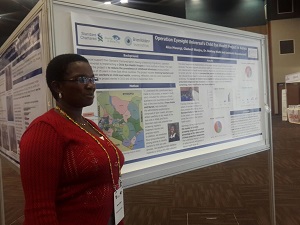 Agnes stands next to Operation Eyesight's poster presentation at the IABP's 10th General Assembly in Durban, South Africa. Agnes was sponsored by SiB to attend the assembly, in recognition of her exemplary work in bringing eye care services to the people of Elgeyo-Marakwet County.
Article submitted by:

Alice Mwangi
Country Manager – Kenya
Operation Eyesight Universal
MwangiA@operationeyesight.com
---

Sightsavers India
Sunderbans Eye Health Service Strengthening Project has concluded 3 years of its 5 year intervention and has made many inroads within the Sunderbans reaching the community. In 3 years the project has conducted 15,014 adult cataract surgeries, screened 167,510 adults and 296,582 children in schools and reached 1,127,262 people through awareness raising events and material. Monitoring progress and results is a significant component of a project of this scale. In a complex geographical setting, such as Sunderbans, simple and traditional methods of monitoring can be less effective.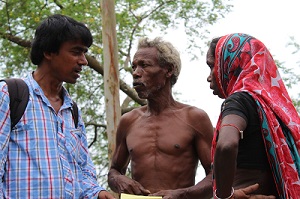 To overcome this, the project employs different tools and methods to ensure that its interventions are working towards the targets. This includes holding monthly meetings at the partner base hospitals and monthly meetings with partner Project Coordinators.
These meetings are held to review the achievements and outputs of that month and plan for the following month, providing an opportunity to understand the challenges which may need to be addressed. The Project Manager then conducts quarterly meeting with all project staff.
This is coordinated with field visits to review the project delivery at the community level covering the various activities and the vision centres. The interaction with all staff allows the Project Manager to get insights from the field and review the strategies used for implementation.
From this reporting cycle, quarterly reviews have also been conducted with the heads of the partner organisations to address any policy or oversight level concerns for immediate action. This has accelerated the review process which previously took longer.
In addition to these more traditional monitoring methods, the use of new technology, through GIS mapping, has been a great benefit. The project has created around 72 different maps at block and overall Sunderbans level. The maps cover different components including administrative boundaries, demography with reference to population and prevalence which has been plotted at the block and the gram panchayat level along with data on services and people reached at each vision centre. The maps have been printed and made into a book provided to each Community Health Worker in the project.
Analysing the different components which impact the intervention and reviewing the performance of their centres from the perspective of people reached; where they are coming from and what kind of services are being provided in what proportion has really allowed staff to improve the interventions in their areas. A more advanced analysis is planned, using these maps to assess gender differences in uptake of services, surgery data and services provided against prevalence.
All these methods and tools together have strengthened the project over time and allowed staff to identify the areas where it may be facing difficulties and employ mitigation strategies in order to achieve a greater impact.
---

CBM Zimbabwe
Establishment of Low Vision Services at Sekuru Kaguvi Hospital (SKH) Children's Eye Unit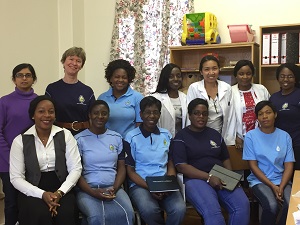 Participants During Low Vision Training
Sekuru Kaguvi Hospital Children's Eye Unit established low vision services for the first time to support children with low vision.
A training on low vision was conducted at Sekuru Kaguvi Hospital Children's Eye Unit from the 22nd to the 30th of August, 2016 under the Seeing is Believing Project. The training which was conducted by the CBM Global Advisor on Low Vision, Dr Karin VanDijk focused on building the capacity of the SKH staff (Ophthalmologists, Ophhalmic Nurses and Registrars) on clinical low vision care to enable the provision of basic low vision services at the eye unit.
The training was structured based on the recommendations from the assessment conducted at the eye unit on service provision, equipment and staff capacity requirements. During the training a number of low vision devices and tests were used in order to build the capacity of staff in prescribing the appropriate low vision device.
A person is said to have low vision if their sight cannot be corrected by glasses, contact lenses or surgery. Low vision in children interferes with their daily activities and in most cases it interferes with reading or writing. Many people are not aware that low vision can be corrected.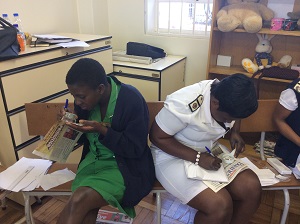 Participants Testing Low Vision Devices
Previous statistics of children assessed at SKH – Children's Eye Unit indicate a great need for low vision services. The eye unit was provided with a variety of optical and non- optical low vision devices. SKH – Children's Eye Unit is a referral hospital providing eye care services for children with different eye conditions from all across Zimbabwe.
The team of Ophthalmologists and Ophthalmic Nurses will assess the children and test the remaining vision, based on the results of the assessment, they will prescribe the appropriate low vision device in order to improve the remaining vision.
A low vision data sheet will be used to collect data for all the children in order to follow-up and monitor use of low vision devices. Continuous mentoring will be provided by the CBM Low Vision Advisor in order to strengthen and improve the quality of service provision.
The access to spectacles and low vision devices has always been a challenge due to cost, unavailability of the devices and services. However, the establishment of low vision services for children at SKH will ensure that children obtain a good level of vision.

Deborah Tigere
Programme Manager
CBM Zimbabwe
deborah.tigere@cbm.org
---

CBM Zimbabwe
Primary Health Worker Trainings in Cataract Case Finding: Strengthening Community Eye Health Services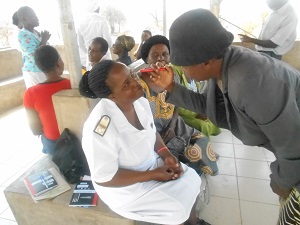 Cataract Case Finding: Training in Hurungwe District
A total of 936 Primary Health Workers (Primary Health Nurses and Village Health Workers) were trained in 13 districts of Manicaland and Mashonaland West Provinces. The Primary Health Workers (PHWs) were trained on cataract case finding in order to identify cataracts with the aim of increasing the cataract surgical output in the two provinces.
In addition, the PHWs were trained on child eye health and preventative eye health in order to support awareness on eye conditions and promote access to services.
While Zimbabweans continue to experience the burden of eye conditions such as cataracts due to barriers such as cost of surgery and fear, the Seeing is Believing Project has subsidized the cost of cataract surgery at Sakubva Eye Unit (Manicaland Province), Norton Eye Unit (Mashonaland West Province) and Sekuru Kaguvi Hospital – Children's Eye Unit.
Cataract Case Finding – Training in Chegutu District
In addition, the government policy provides free of charge services to children below five years and adults above 65 years.
The Primary Health Care (PHC) system in Zimbabwe consists of community health workers and health centres.
The Village Health Workers (VHWs) are the most common cadre and the link between communities and health services. The training of primary health workers on cataract case finding will support the identification of cataracts and other eye conditions and promote the referral of patients to access eye health services.

Deborah Tigere
Programme Manager
CBM Zimbabwe
deborah.tigere@cbm.org
---

Aravind Eye Care System India
Innovative approach to Strengthening Comprehensive Eye Examinations in Outreach Activities
Glaucoma and Diabetic Retinopathy [DR] are now emerging as leading causes of preventable blindness next to cataract, in India. Due to the silent nature of these diseases, most of the patients are undiagnosed till late stages of disease. Being a silent disease the only way to tackle this problem is by doing opportunistic screening. A significant opportunity lies in the outreach activities. However, the detection rates of these conditions in community outreach camps by traditional methods are low and thereby the case detection process continues to be ineffective. There is an urgent need to deploy newer methods to increase the detection rates to facilitate timely intervention and thereby decrease the burden of blindness.
In this proposed model, patients will be evaluated by hand held slit lamp for angle depth, Intraocular Pressure measured by Perkin's tonometer and Fundus images will be acquired by a trained technician using hand held fundus camera after dilatation. The images will be evaluated on laptop for Glaucoma, DR and any other fundus pathology by ophthalmologist on site or specialists in the base hospital. Patients suspected to have ocular pathology would be referred to our base hospital [Aravind Eye Hospital at Pondicherry]. By early diagnosis we aim to decrease the overall burden of vision threatening diseases.
Aravind Eye Hospital, Pondicherry currently screens 60,000-70,000 individuals annually through their outreach eye camps. Our pilot projects have shown that Glaucoma and DR detection rates with fundus camera, hand-held slit lamps and Perkin's tonometer were twice that of those by traditional methods [using direct ophthalmoscopy and Schiotz tonometry].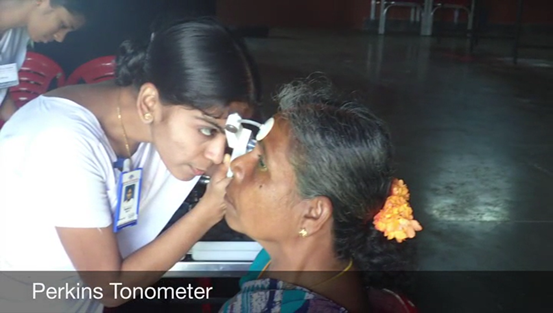 Measurement of Intraocular Pressure by Perkins Tonometer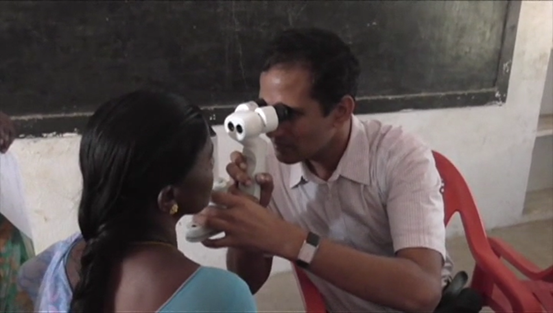 Preliminary Evaluation using a Hand Held Slitlamp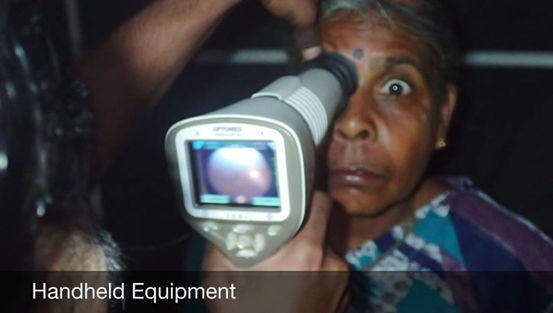 Fundus Imaging Using Hand held Fundus Camera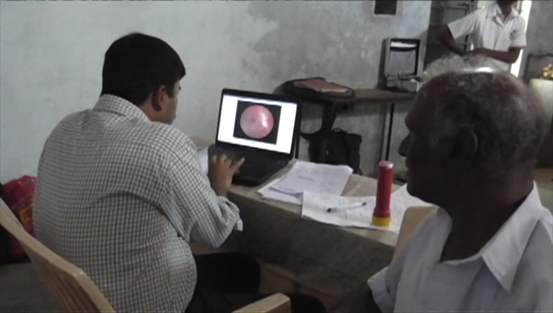 Final Evaluation of Patient with Fundus Images on a Laptop

Dr. Rengaraj Venkatesh
Chief Medical Officer
Aravind Eye Hospital
Pondicherry
India
venkatesh@pondy.aravind.org