CBM Nigeria: Massive awareness raising and outreach campaigns boost Seeing is Believing achievements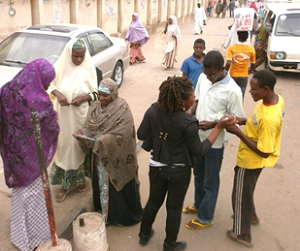 Over 87 million people learned about the importance of eye care and the availability of free and subsidized eye services in Northern and South Western Nigeria through a massive media campaign between 2011-2014. Radio talk shows, jingles, newspaper articles, health talks, billboard posters and flyers all contributed to the awareness raising – targeting Nigerians affected by preventable blindness such as cataracts, glaucoma and the need for spectacles.
The massive media campaign combined to local awareness raising activities were essential to increase attendance at the Seeing is Believing (SiB) programme's outreach camps and base hospitals. It led to an increase of 22% of the number of surgeries carried out between 2011 and 2014.
Those are some of the conclusions of the external evaluation of CBM's SiB programme, implemented through five local partners, which aimed at making comprehensive, high quality and affordable eye care service delivery accessible in North and South West Nigeria by:
Raising public awareness about eye conditions / eye care services within the programme area (population of approximately 35 million with a blindness prevalence of 0.78%)
Delivering high quality eye care at each of the designated hospitals for the target population
Making comprehensive eye care services available and accessible through outreach programmes
Establishing a training programme for ophthalmologists and Mid-level Ophthalmic Personnel
Key Achievements
An external evaluation of CBM's SiB programme was undertaken in January 2015. Based on beneficiary, community and traditional leader interviews, it concluded that CBM's SiB programme was successful in reaching poor and underserved persons in need of eye care services, particularly in rural communities in Northern and South West Nigeria. It also established that the programme achieved or over-achieved in 7 of its 9 targets.
Objectives

Targets

Results

% of target reached

Number of surgeries

40,562

38,476

95%

Spectacles dispensed

16,882

19,574

116%

Number of persons screened

(outreach and base hospital)

302,692

231,000

131%

Number of outreach visits

600

1,202

200%

Community drug distributors and other health worker trained

2,370

2,610

110%

IEC material distributed

380,000

352,000

93%

Education/media campaigns

87,100,630

2,769,000

3146%

Doctors trained in SICS

51

54

106%

Mid-level ophthalmic personnel trained

173

100

173%
Key Lessons Learned from Evaluation
Although service delivery was a huge component of CBM's SiB programme, its success rests on on the fact that the programme integrated all six components needed to strengthen health systems; advocacy, information and awareness raising, strengthening human resources, improving service delivery, strong programme management, and building infrastructure and technology.
Having well trained and committed staff was essential to the success of the SiB programme. Partners initially struggled with hiring trained staff and had to invest in the expansion of the residency program to build in-house capacity to conduct high volume surgeries. Higher patient volumes contributed significantly to better trained staff, enhancing hospital reputation and increasing revenues.
The programme demonstrated that quality eye care services do not have to be expensive. The business model of having tiered pricing makes services affordable for all patients and this business model can be replicated in other centres. Even after the end of the SiB programme, the hospitals are still able to charge fees as low as 10,000 naira for cataract surgeries by examining areas of inefficiency that drive up cost within their systems, placing emphasis on delivering quality and patient-focused services and having a high volume of patients.
Community mobilization and awareness of eye services were essential to the uptake of eye care services despite the fact that the programme was offering free or highly subsidized services. Some partners struggled initially to attract patients despite offering free surgeries. They had to understand the peculiarities of their target groups in order to design appropriate interventions and mobilization strategies. Plans were tested and modified and several different approaches had to be combined to effectively mobilise community members to attend outreaches. It is clear that programme targets were only met because of the massive investment of time and resources which led to successfully mobilizing communities.
The SiB programme showed that with training and a clear referral network, government structures can be utilized adequately to identify cataract cases for surgery as evidenced in the use of primary health care staff and community drug distributors in Jigawa state. The use of highly trained mid-level ophthalmic personnel made it possible to successfully carry out tasks that normally would be the responsibility of specialized eye health personnel. This model has been used successfully elsewhere and CBM's SiB programme provides evidence that the model has been replicated successfully in Nigeria.
CBM's partners were able to engage private individuals and corporations in their work which led to funding for free surgeries. To do this successfully, advocacy efforts, messages and tools need to be tailored to each target group. Although this type of fundraising was not part of the initial programme design those fundraising efforts have helped sustain the outreach work and subsidized surgeries.
Ophthalmic equipment is expensive and is easily damaged by power fluctuations. The practice of using inverters to prevent fluctuations in power supply should be adopted as a best practice.
Recommendations
The evaluation report identifies overall and specific recommendations for the future:
1.  Subsequent projects would benefit from conducting baseline surveys on barriers to service uptake among women and persons with disability so that outreaches can be designed to be inclusive from the outset and success monitored.
2.  Government, corporate organisations, non-profit organisations and individuals should be engaged through tailored advocacy messages.  Also, invest in creating documentary evidence such as videos and success stories for the program to be used as a strong advocacy tool.
3.  Sustainability plans should be developed for core aspects of the programme, such as training, conducting outreaches and service delivery.
Specific recommendations to the eye clinics and hospitals included:
4.  Create more partnerships with private sector and individuals which will provide funds to continue free surgeries and expand services beyond catchment areas.
5.  Diversify beyond general ophthalmology into sub-specialization. Now that the hospitals are mastering cataract surgeries, they need to diversify their services to include sub-specialties. They could create opportunities to train subspecialists for their own residents. The cost of sub-specialty services is higher and would generate more income for the hospitals.
6.  Repackage training courses to advertise to become attractive to external candidates
7.  Some of the partners should increase linkages to rehabilitative services
8.  Centres should work more with government entities to provide training of health workers on eye care
9.  Review business models to enhance revenue and ensure sustainability as well as subsidized services
10. Develop equipment maintenance plans and strategy for replacing equipment and material
11. Based on the increased awareness of eye diseases and services among CTL in the target areas, religious and traditional leaders should be approached to support treatment costs for their community members who are unable to afford the cost of treatment.
12. Review incentives to attract skilled manpower to address shortages in Northern Nigeria

Barbara Trachsel
CBM UK Programme Manager – West/Central Africa & Latin America
CBM
barbarat@cbmuk.org.uk