The University of North Carolina at Chapel Hill – HEADSTART
When Seeing is Believing's Innovation Fund launched in 2013, the idea was to do things a little differently.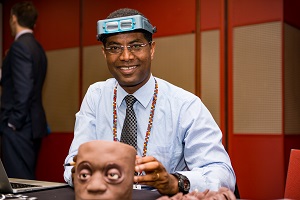 Whether it was to break through cultural barriers, give low-income countries access to high-income technology, or get eye care equipment to places that couldn't be easily reached, the Fund encouraged teams to take risks to develop new, pioneering ideas that changed how eye care is delivered across our markets.
A visionary success story
Nearly eight million people worldwide need trichiasis (trachoma) surgery. But, surgical outcomes have historically been very poor, with research suggesting the variability of technique across surgeons was a key factor.
That's where HEADSTART, one of our first innovation fund projects, came in.
Changing the training landscape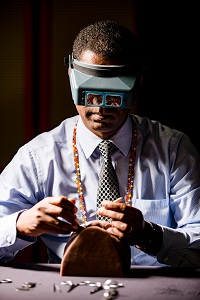 HEADSTART is a realistic mannequin that contains a model of an eye and eyelid that surgical trainees use to practice their skills in a no-risk environment. The grant helped the team to test whether training surgeons with this new approach would impact surgical outcomes.
And it did.
When HEADSTART-trained surgeons performed their first live surgery, half the number of interventions were required by the trainer, and surgery was 37 per cent faster than those performed by surgeons without HEADSTART training.
The tests also identified trainees who weren't technically skilled enough to perform surgery – this previously would've only have been discovered during a potentially damaging live surgery.
Expanding the programme
After a successful first phase, HEADSTART applied for funding to expand the programme.
Incredibly, the eye models (cartridges) have so far been handmade by fine artists with special-effects experience, but that time and labour-intensive process isn't scalable.
"Right now, our goal is to find a way to effectively mass produce the cartridges," explains HEADSTART'S Doctor Emily Gower. "We've made several breakthroughs, but successfully mimicking layers of human skin is understandably complicated.
"We thought we'd made a breakthrough with 3D printing, but we soon found there was a huge margin of error. However, we've now discovered a new printing method that can cut material and work with silicon in a different way, so we're on the cusp of getting it right. Not only will this mean we can produce more cartridges, but the cartridges will be cheaper and lighter, too."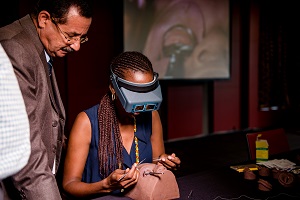 The cartridges are just one challenge the team is facing as they look to scale up the programme, which was recently endorsed by the World Health Organisation who recommended that all trichiasis surgery training be conducted with a surgical mannequin, such as HEADSTART. But addressing challenges is what the Innovation Fund is there to support, as Dr Gower explains:
"The Innovation Fund continues to provide our team with the unique opportunity to make a rapid and meaningful impact on the way trichiasis surgery training is conducted worldwide."

Kate Woodhead
Associate Director, Programme, Seeing is Believing
Group Public Affairs and Sustainability
Standard Chartered Bank