The Fred Hollows Foundation Bangladesh
For the first time The Fred Hollows Foundation has collaborated with Standard Chartered Bank in Bangladesh to work towards eliminating avoidable blindness in a four-year project titled 'Building Gender Equitable Eye Health Systems in Barisal Division'.
This project focuses on delivering quality eye care services (with a focus on cataracts) in all six districts of Barisal division through Public Private Partnership. The project will work to build the capacity of eye units of government district hospitals so that they can deliver quality eye care services to the people of Barisal.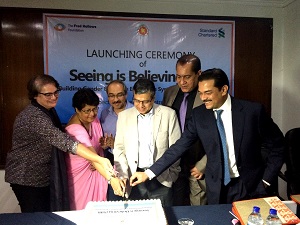 To promote the project at the national level, a grand launching event of the Seeing is Believing project was held in the first quarter of 2016. The event was graced by Mr. Syed Monjurul Islam, Honourable Secretary of the Ministry of Health and Family Welfare, Prof. Dr. Deen Mohd. Noorul Huq, Director General, Directorate General of Health Services, Dr Zareen Khair, Country Manager, The Fred Hollows Foundation Bangladesh, Ms. Sally Anne Vincent, Charge D' Affairs, Australian High Commission, Mr. Abrar A. Anwar, CEO, Standard Chartered Bank and Prof. Dr. A.H.M Enayet Hussain, Additional Director General of the Directorate General of Health Services and General Secretary of Ophthalmological Society of Bangladesh (OSB).
Partners and stakeholders were present from public and private sectors alike. The panel of special guests highly appreciated this comprehensive project which would provide quality eye care services focusing on the marginalized population of Barisal. The launching ceremony was publicised in leading national dailies.

Zara Khair
Program Coordinator,
The Fred Hollows Foundation, Bangladesh
---

The Fred Hollows Foundation China
Partnership: Cornerstone of Project Implementation
On April 1st 2016, Seeing is Believing Phase V: A Comprehensive Rural Eye Care Model in Yunnan Province-increasing Access for Disadvantaged Groups to Universal Eye Care Project was launched. Not only the project implementation partners from project sites joined the launch ceremony, but also the government officials from Yunnan Health and Family Planning Commission, Yunnan Disabled People's Federation and Yunnan Center of Disease Control attended the ceremony and committed their support to the Project.
With a strong focus on advocacy at provincial and national level, the Project aims to establish a model of comprehensive rural eye care that includes DR intervention in Yunnan Province to strengthen government commitment and provide evidence for replication. Strong partnership, commitment and support from both project partner hospitals and local government is the cornerstone to ensure the success of the project.
The project is implemented cross all four levels from provincial, prefectures and county, down to township and village levels. The Project targets to benefit 2,164,000 people of disadvantaged groups in local communities of Dali and Wenshan prefectures in 3 years, and it is expected to extend its impact beyond the 2 prefectures to across Yunnan province which has 16 prefectures and a total population of over 47 million.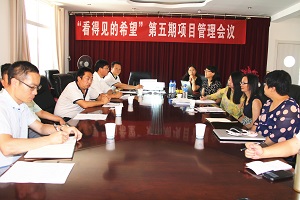 To achieve best results effectively, and establish sustainable coordination mechanism, all the Project implementation partners agree that active involvement of local government departments will accelerate the progress of project and strong partnership with local government departments will play a key role in advocating the Project model. Project launch meetings were held at provincial, prefecture and county level to establish supportive and coordination mechanism with local government departments. The officials from local Health and Family Planning Commission, Education Bureau, Disabled People's Federation and CDC attended the project launch meetings and committed to provide administrative support for the project implementation.
With the purpose of strengthening government commitment and support across all four levels, government official document to support the project was issued from provincial government. In parallel, bottom-up approach of high quality project implementation which will contribute to generate evidence to support advocacy at national level in decision making and policy improvement. Over the last few months, a strong coordination mechanism has been established with the involvement and support from provincial level government departments down to county level. Local communities have also been actively involved in project implementation.
Authors:

Ms SHI Zhiping,
Project Officer,
The Fred Hollows Foundation China

Ms WANG Jing,
Senior Project Officer,
The Fred Hollows Foundation China
Co-author:

Ms. Amanda Huang,
Senior Program Manager,
The Fred Hollows Foundation China
---

Operation Eyesight Universal Zambia
A First in Zambia: Operation Eyesight Universal and SiB Launch a Community Eye Health Project in Three Compounds in Lusaka
In June 2016, Operation Eyesight, together with Standard Chartered Bank and the Ministry of Health, launched SiB phase 5, tranche 3 in Zambia. This project is a comprehensive four-year plan to eliminate avoidable blindness from three underserved, urban compounds in Zambia's capital city of Lusaka: Chawama, Mandevu and Bauleni. Our goal is to promote avoidable blindness-free communities in the compounds on a sustainable basis.
Through the project, we aim to develop a model of comprehensive eye health care for underserved populations that we can then replicate in other compounds of Lusaka where there is a high prevalence of avoidable blindness. In order to achieve this, we are strengthening our services, working to embed primary eye care into primary health care, and striving to deliver quality, comprehensive eye care to all.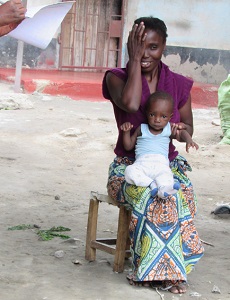 To integrate primary eye care into primary health care, we've established and renovated three eye units, and equipped them with center of excellence equipment. We've trained community health workers to be the primary contact persons in their communities.
We've also trained them to conduct door-to-door surveys to ensure those in need of eye care receive timely treatment.
The entire service area has been divided into 17 clusters, and every household in each cluster is being visited by a community health worker. Community health workers examine every member of each household, identifying those with eye health issues and referring them to the nearest eye unit for appropriate care.
To our knowledge, this is the first time door-to-door surveys have been conducted by any INGO in Zambia, and we're proud to be paving the way in partnership with SiB!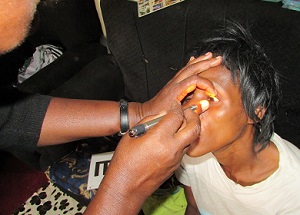 The established eye units are already overwhelmed with the number of patients being referred from the door-to-door surveys. Most of the referred patients flock to the eye units themselves, while others are accompanied by a community health worker.
We've broken down the many barriers that used to prevent people from accessing eye care services in these compounds. With eye health facilities closer to the communities and eye screenings being conducted literally on people's doorsteps, patients now have quick, easy access to eye care services. Better yet, these eye care services are provided to patients free-of-charge.
We're on course to achieve our goal of eliminating avoidable blindness in the compounds by 2019. Our ultimate goal is that no one will be needlessly blind in this municipality, and that the residents of this area, and beyond, will have access to quality, affordable eye care on a sustainable basis.
Article submitted by:

Patson Tembo
Country Manager – Zambia
Operation Eyesight Universal
---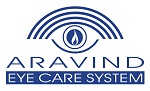 Aravind Eye Care System India
Providing appropriate care and devising new strategies to treat corneal blindness – Going the extra mile….
Corneal ulceration (medical terminology – infectious keratitis) is a serious public health problem in most of the developing countries like India. Social scientists term this condition as a "silent endemic". The incidence in these poorer socio economic regions is ten times that of the developed countries for the following reasons mentioned:
a. Non adherence to basic safety measures when involved in manual labour intensive activities like agrarian work, stone quarrying , welding etc
b. Delay in seeking treatment, complicated by the use of traditional eye medications which is still rampant in many rural areas.
c. Presence of high virulent pathogenic fungi in the environment, which can contaminate the abrasion and set up a serious infection in the cornea
d. Lack of appropriate tertiary eye care services with microbiological support in the rural areas
e. Increased cost of medications
f. Delay in the wound healing because of the inherent lack of blood supply of the cornea, which means that the person cannot go to work and earn his livelihood for almost six months to a year.
The starting point in the whole pathology is for a person to get exposed to a trivial injury. This injury, often caused by manual agrarian activity might cause a very superficial abrasion.
If the situation is coexistent with an environment comprising of pathogens including bacteria and fungi, which is the common situation encountered in the rural atmosphere, the corneal ulceration starts. A corneal ulcer, when treated promptly with appropriate medication usually heals with or without a sequelae. However, a series of non-adherence to basic safety and a delay in seeking medical care worsens this condition to a serious vision threatening condition.
When this condition happens, this is a big economic burden to the individual and the community at large. This is considered as a "poor man's disease", a "rural disease" and an "agrarian disease" with the result that it does not get the consideration that it deserves. It has to be borne in mind that this disease affects individuals in their main earning period and hence the loss of man years of productivity is significant. If the ulcer is very advanced, then a corneal graft (transplantation) is required, which is a luxury in a setting, where the availability of donor cornea is low.
Aravind has constantly embarked on various strategies to combat this problem. It has initiated large scale population based studies to understand the incidence of this condition, conducted large randomized clinical trials to determine appropriate treatment strategies and also collaborated with basic research scientists to understand the pathophysiology of this condition. In addition, the investigators from Aravind have participated in similar exercises in Nepal, Bhutan and Myanmar. Importantly, Aravind was the first institution to highlight that fungi was the most common cause of infectious keratitis in India, which was then corroborated by many investigators from different developing countries. This singularly important finding highlighted the importance of using adjuvant ocular microbiology techniques, while treating these patients.
We are very grateful to the SiB for their support in three distinct projects aimed at alleviating a part of this problem namely:
1. Support for treating corneal ulcers in poor patients: As mentioned earlier, this disease affects the poor population in a disproportionately high manner. Female patients are less likely to receive timely help because of their coexistent domestic responsibilities.
The aim of this project is to ensure that people who cannot afford a comprehensive treatment for a corneal ulcer get it without any compromise. This might also give us an indirect method to understand the various existing barriers confronting the corneal ulcer patient. After all, a prescription never cured a disease!!!!!!!
2. Developing an enhanced corneal preservation medium: Serious corneal ulcers are treated with corneal transplantation. The donor corneas are preserved in a storage medium prior to being used in transplantation. The medications in the storage medium reflects the susceptibility pattern of the microorganisms in the Western World. Today, very few drug companies make this product and it is prohibitively expensive to import this. Aurolab, which is the manufacturing division of the Aravind Eye Care system has started producing Cortisol, which is an affordable and an accessible combination of the existing product. However, it may not be the gold standard medium for the basic reason that it does not contain any drug to counter a fungal infection. This is paradoxical in a situation, where fungi are more common than bacteria in causing corneal infections. . This ambitious programme is a first of its kind initiative to develop a corneal storage medium with contemporary anti-infectives. This challenging research initiative, involves the active collaboration of clinicians, basic researcher and the drug manufacturer, all from the different divisions of AECS. . We plan to use the facilities of Aurolab, which is a nonprofit manufacturing arm of the Aravind eye Care system to develop this product for possible global use.
3. Equipment support for better diagnosis of corneal ulcers for timely and appropriate surgical intervention: Aravind is one of the most prolific publisher in all aspects of this neglected diseases in very reputed, international peer reviewed journals. This effort will further be strengthened with the induction of the new state of the art diagnostic facilities which will enhance diagnosis as well as possibly support the advent of newer treatment protocols.
All these projects are interrelated in one way. While the first project would directly help poor people with corneal ulcers get appropriate and free care, the second and the third projects aim to enhance the scientific knowledge which might help clinicians world over, to treat these patients. These projects address at least two of the three themes selected by SiB- namely the gender equality and bringing eye services closer to the community. We gratefully acknowledge the help of SiB and together, let us make a firm commitment to help these poor individuals to reduce their suffering and improve their quality of life.
Author Name:

Dr. N. Venkatesh Prajna
Chief- Department of Cornea
Aravind Eye Hospital
Madurai
India
---