In the last 6 months 9 new SiB projects have started! Below some of them introduce themselves:
The Fred Hollows Foundation – Viet Nam Child Eye Care Project
The Fred Hollows Foundation (FHF) is an international development organization, focusing on blindness prevention and improving Indigenous Australian health. Working in Viet Nam early 1992, FHF is now one of leading eye care international non-governmental organizations (INGO) in Viet Nam. The Foundation works in partnership with the Government, Viet Nam National Institute of Ophthalmology (VNIO), Medical Universities, and more than 20 provincial eye care service providers as well as other eye care INGOs including IAPB, WHO office in Vietnam, the Australian government aid program, and Seeing is Believing program (SiB).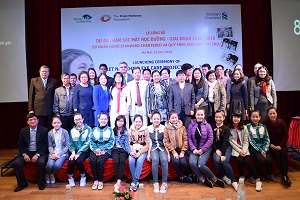 At present, uncorrected refractive errors, particularly myopia, among secondary school children is a major public health problem in Viet Nam. Visual impairment, especially the increasing number of uncorrected refractive errors, impacts a child's development and can result in delayed learning and low rates of educational attainment. In addition, school eye health is currently not a priority and is less invested in than existing school health programs.
In order to help reduce the gap and increase access to eye care services for children, FHF has launched a project named ''Viet Nam Child Eye Care" (VNCEC) working in partnership with The Ministry of Health (MoH) and Ministry of Education and Training (MoET) in three provinces, Hai Duong (Northern region), Da Nang (Central region) and Tien Giang (Southern region), from 2016 to 2018.
This project is funded by Standard Chartered Bank, under the ''Seeing is Believing'' initiative – Phase 5. It is designed to support the integration of health and education sectors and to improve the eye health of children aged 6-15 through development and adoption of national school eye screening guidelines. The initiatives will be applied in three different regions in Vietnam, and findings from in-built research components will be used to inform decision-makers for national adoption of school eye health policies and guidelines.
The project aims to improve eye care services, especially for refractive errors and child eye health, through advocacy, partnerships and research to reach following objectives:
To improve policy coordination between education and health sectors in support of a national school eye health program for children
To strengthen school staff and eye health personnel capacity to deliver eye care services for school children
To improve thequality of and increase access to eye care services for children
To develop a children's eye health monitoring system to inform increased government and global commitment to resourcing quality school eye health programs
To enhance eye care awareness for children, parents and teachers to support sustainable reduction of visual impairment in communities.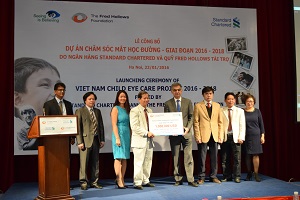 The project will support health and education sectors to set up referral pathways and help both sectors enhance inter-collaboration to effectively implement the school eye health program. It will be piloted in in three selected provinces: Hai Duong, Da Nang and Tien Giang.
The project budget is US$ 1.2 million, of which US$ 1 million is funded by Standard Chartered Bank through the Seeing is Believing program. The VNCEC Project is expected to directly benefit 1,958,730 children and will present an effective school eye health model to both provincial and national level decision makers for nationwide application beyond the project's lifetime.

Author: Phan Song Thao
Project Manager
Viet Nam office

Photos: Viet Huynh
Regional Communications Coordinator
The Fred Hollows Foundation
---


A new vision for eye health in Pakistan's Khyber Pakhtunkhwa province
Sightsavers, in partnership with Fred Hollows Foundation, started a 4-year project titled "A new vision for eye health in Pakistan's Khyber Pakhtunkhwa province" in January 2016. The project goal is to contribute to sustainable provision and increased demand for eye care services at the district level for people in four districts of Khyber Pakhtunkhwa province in Pakistan i.e (Haripur, Mansehra, Swat and Swabi). This will be achieved through collaboration with provincial health departments, Pakistan Institute of Community Ophthalmology (PICO) and charity organizations working on eye health programs in the province.
This project is seeking to ensure easy and quality access of basic eye care services to underserved communities. It will also strengthen government services for the public by supporting quality service delivery, capacity building of government's human resources, establishing and strengthening referral system, improving eye health infrastructure at district level, community mobilization and advocating for increased budget allocation for eye care services.
Although there are  existing eye health infrastructure and human resources in the project areas, however there are significant gaps in service provision. This is largely due to lack of specialized equipment and inadequate space to run eye care services in hospitals, which are often overcrowded. Government health facilities are under-used by women, due to a lack of female staff, poor access to medication and equipment and the distance to travel to these eye health facilities. The facilities in the districts are not operating at full capacity; therefore, the project will enhance service delivery in these districts.
Each of the project inputs focuses on different aspects of the WHO six building blocks of the health system. More than 1,784,904 people will directly benefit from the project activities via surgical interventions, outreach activities, eye screening, referral to secondary hospitals, capacity building of health staff, and awareness raising sessions at community level.

Itfaq Khaliq Khan
Programme Officer
Sightsavers Pakistan Country Office

Naseer Jan
Communication Officer
Fred Hollows Foundation Pakistan Office
---
MAONO PROJECT – SINGIDA Sightsavers Tanzania
The MAONO (means "ability to see") project is being funded by the Standard Chartered Bank (SCB) and the International Association for the Prevention of Blindness (IAPB) through the 'Seeing is Believing' initiative. It is being implemented in Singida, Tanzania (one of the most underserved regions in the country) and will run for a term of four years (April 2016 through March 2020). The project goal is to contribute to the sustainable provision of eye care services in six districts in Singida region focusing on demand creation and improvements in current service delivery mechanisms. The three key main objectives are:
Increased support and commitment to eye health from local and central government.
Strengthened eye health systems to deliver eye health services in all 6 districts of Singida region.
Community at large (men and women including children) with visual impairment access eye health services in the six districts of Singida.
On 21 – 22 April 2016, Sightsavers Tanzania in collaboration with the Singida regional authority facilitated a two-day workshop to mark the start of the project. This was an inception workshop which was attended by high-level government representation and other partners who works in the same sector. These include:
1. Ministry of Health, Community Development, Gender, Elderly and Children (MoHCDGEC) (Dr Nkundwe Mwakyusa, the National Eyecare Coordinator)
2. Assistant Regional Administrative Secretary and the Regional Medical Officer of Singida region (Dr. John Mwombeki)
3. Regional Eyecare Coordinator (REC) and Regional Health Secretary (RHS)
4. District Medical Officers (DMOs), District Health Secretaries (DHSs), District Eye Care Coordinators (DECs)
5. Tanzania League for the Blind (TLB) Singida region representatives
6. Kilimanjaro Centre for Community Ophthalmology (KCCO) representatives
The meeting provided the opportunity discuss the details of the project as well as looking into key areas which were thought to be of importance in getting the project off the ground. It was a chance for the regional and district partners to understand their role in relation to the project in order to provide the high quality support required during project implementation. Some of the areas covered included: summary of the project and the anticipated key deliverables at the end of four years; reporting and communication protocols, gender, advocacy and health financing mechanisms for long term sustainability as the project phases out.
National Eye care coordinator Dr Nkundwe Mwakyusa (left) and Dr John Mwombeki – Regional Medical officer for Singida giving overviews of the project to the media community
Cross section of participants following the discussions during the two day workshop
Key meeting outcomes
·  Regional partners are updated on the background of the project including justification for locating the project in Singida
·  Regional and district partners have a thorough understanding of key priority areas for the project – that is, gender mainstreaming, inclusivity (for the people with disabilities) and health financing so as to have both with comprehensive eye care services.
·  Regional and district partners pledged to spread awareness on the importance of the issues being addressed by the project (i.e. eye healthcare system service delivery and financing) and to advocate for prioritising during district-level planning through district-based platforms with elected community based leaders that include Ward Councillors
·  All partners involved in the eye care services in the region agreed to have well-coordinated plans to smoothen the implementation. The first planning meeting will be held at the region on 16th to 17th May under the chair of the Regional eye care coordinator (Partners to participate include Sightsavers, KCCO).
·  MoHCDGEC have laid a clear guide to support the undertaking of the project accordingly at all stages.
Way forward
During closing remarks, participants and speakers put emphasis on ownership. This can be achieved by continuing to encourage wider participation by the districts in Singida to ensure that in subsequent years, prioritising of eye health care begins at the district level. This way, the project works within the existing government system and better guarantees the sustainability of interventions.
Furthermore, the meeting called an immediate action for all partners (Sightsavers, KCCO and the six districts of Mkalama, Manyoni, Singida MC, Singida DC, Ikungi, Iramba through the coordination of Regional Eye Care Coordinator) to finalize a detailed regional implementation plan. This plan will outline the different activities by the different primary stakeholders especially Sightsavers and KCCO. The intended implementation plan will minimise duplication in effort or resource-allocation and therefore be a model for partnership in eye healthcare in Tanzania.

Koronel Kema
Programme Manager
Sightsavers Tanzania
---
New Vision: Bringing quality eye health to Muchinga and Eastern Province, Sightsavers Zambia
The Seeing is Believing (SIB) Muchinga and Eastern provinces Eye Care project funded by Standard Chartered Bank and the International Association for the Prevention of Blindness was approved in January 2016. The project will offer comprehensive eye health services in Isoka, Chinsali, Chama and Petauke districts, while engaging national stakeholder in advocacy activities in Lusaka. The project was launched at a start-up workshop which took place from 6th -8th April 2016. The workshop was facilitated by staff from Sightsavers Zambia and UK.
Participants, mainly from Ministry of Health at national, provincial and district level were in attendance during the workshop. Key project stakeholders including University Teaching Hospital Eye unit, Chainama College of Health Sciences, Zambia Social Forum and Zambia Federation of Disability Organisation were in attendance. There was also a representative from the local SCB in Zambia.
The start-up workshop received overwhelming support from the Ministry of Health and all implementing partners. Stakeholders agreed that the project was strategic as it will take service delivery to districts where eye care services are under developed.
In the first year, the project will focus on raising awareness about eye health in the selected districts, the available services and how members of the community can access them. The different stakeholders committed themselves to ensuring that their different competencies are used to achieve the project goal – contributing to sustainable provision of and increased demand for eye care services.
| | |
| --- | --- |
| | |
| SCB representative presenting after a group work |  Participants at the workshop |
The Bank, was represented by Employee Banking Relationship Manager, Malan Chanda who is also a member of the local SIB board. He indicated that the Bank is keen to support the SIB project and commended the working relationship between the Bank and Sightsavers during the implementation of the phase IV project. Members of staff from the Bank have in the past been involved in various community screening activities that were initiated jointly by Sightsavers and the Bank. He hoped that this project will build on this relationship.
The SIB project is expected to deliver 3,600 cataract surgeries over the next three years. With the enthusiasm and support from all stakeholders, Sightsavers are confident that the partnership with Standard bank and IAPB will contribute to deliver quality eye health to these local communities in Zambia and contribute to Vision 2020 objectives.

Francis Kalusa
Programme Officer
Sightsavers Zambia