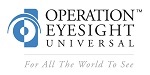 Operation Eyesight Universal India
Operation Eyesight Universal is a 51-year old international development organization that has been evolving and implementing innovative approaches in our mission to eliminate avoidable blindness in India and the African nations of Kenya, Rwanda, Zambia and Ghana.
With strong and committed support from Seeing is Believing, Operation Eyesight successfully implemented two projects in the slums of Hyderabad and Delhi which were launched in 2008 and ended in 2014. The two projects achieved the overall objective to eliminate avoidable blindness from the target communities. A key factor to the success of the two projects was the strategy to work in partnership with local NGOs and the Government by effectively utilizing the existing infrastructure and services provided by these agencies.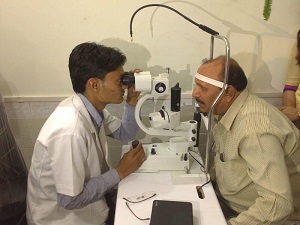 When the projects were launched in 2008, there were no NGOs were intervening in the project areas in both cities. Even the Government was only providing minimal services through seven (four in Shahabad Dairy, Delhi and three in Fatehnagar, Hyderabad) Integrated Child Development Service Centres and sporadic immunization clinics that focused mainly on malnutrition and immunization.
The key services that determined eye health were not being addressed at all. The project teams identified potential and relevant organizations in the two cities and partnered with them. During the life of the project, the Community Based Organizations (CBOs) promoted by Operation Eyesight developed partnerships with over 33 NGOs and Government agencies (18 in Shahabad Dairy, Delhi and 15 in Fatehnagar, Hyderabad) and many of these partnerships continue to benefit the target communities.
Through our networking initiatives we were able to bring to the communities the following services:
·  Eye health services: Through our partnership with L. V. Prasad Eye Institute, Dr. Shroff's Charitable Eye Hospital and All India Institute of Medical Sciences we were able to not only use their services to conduct eye health screening programmes but also ensure that patients requiring surgical services received high quality treatment at no cost to them at our partner hospitals. The partnership with Dr. Shroff's, Delhi helped the CBO treat diabetic patients as well as part of a Diabetic Retinopathy Project initiated by Dr. Shroff's. This continues even after the life of the project.
·  Livelihood opportunities: We identified potential youth and women from below the poverty line families in the two slums and linked them with the networked partners to receive micro-skill training in different trades
·  Addressing malnutrition: Our efforts to advocate and partner with the Government at the community level resulted in an increase in number of ICDS Centers from seven to twenty in both cities (11 in Shahabad Dairy Delhi and 9 in Fatehnagar, Hyderabad) resulting in a significant dip in children suffering from severe malnutrition.
·  General health screening programme: General health services were provided by networking with local primary health care service providers and also the Government Teaching Hospitals.
The key learnings during the mid-term evaluation which enabled us to assess and adopt during the course of the project included:
·  Good rapport with ICDS staff improved immunization and nutrition coverage.
·  Partnerships developed with prominent eye hospitals such as L. V. Prasad Eye institute, M S Reddy Eye Hospital, Kishore Chand Eye Hospital and Dr. Shroff's Charitable Eye Hospital led to increased uptake of eye health services in the project area.
·  Mega health screening programmes conducted in coordination with networking partners helped the CBO to establish rapport with agencies, build confidence among residents and increase publicity for the CBO.
The strong networks built with the local NGOs and the horizontal and vertical linkages developed between the community and various service providers including eye health and primary health care service providers not only resulted in us achieving the projects' objectives but continue to benefit mothers and children seeking immunization, eye health care, ante-natal and post-natal care and other related services on a sustainable basis even post project completion.
Dr. Santosh Moses