Orbis China Child Eye Health Project Mid-Term Review
A mid-term review was conducted in September 2015. It focused on project management, technical review on clinical work and financial review. Total eight hospitals (1 provincial level, 2 prefectures, and 5 counties) were selected in the mid-term review.
The mid-term review was led by two external consultants (1 for project management and 1 for clinical review), supported by project staff of the lead consortium NGO and the local lead coordinating hospital. Financial review was conducted by the lead consortium NGO.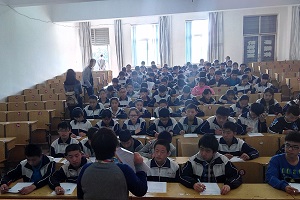 The methodologies used included documents review, on-site observation (e.g. training on village screening), different small group discussion (e.g. Leaders of hospital, bureau of health and education, disabled people's federation, and local project team; randomly selected teachers trained in school screening; randomly selected KIs trained in village screening), questionnaires on service provision, screening, health promotion, and equipment (e.g. school children identified with visual acuity less than 0.5 in screening, refractionists/optical technician, chief of eye unit, etc.), management meeting (project managers), and home visit to children who were identified in screening but did not accept the referral suggestion, etc.
The midterm review was able to collect information from a range of stakeholders of the project, e.g. eye care professionals and screeners (teachers and KIs) who were trained in the project, project management staff, leaders from relevant governmental sectors at all levels. We were also able to get inputs from service receivers, e.g. students, SWI caregivers and foster families.
Therefore, we collected lots of valuable findings from the mid-term review. We understood more on how to conduct eye health promotion and how to improve training and screenings. We are more confident on convience KIs and hospital that there are still many children with eye problems, or visually impaired or multiple disability in communities and schools.
The findings are very helpful for project improvement in the next half of the project cycle. Action plans have been discussed at the physical quarterly meetings and monthly online meetings among consortium partners and among hospitals after completion of the review in 2015. Some actions have started to address issues and made progress in Q4 2015. For example, more children identified and referred from village screening.
The findings of the review were shared among large diverse audiences who were from governmental sectors at all levels presented at the advocacy meeting & annual meeting in late December 2015. Institutions and individuals were rewarded at the meeting based on this review and regular progress monitoring. They were honoured and motivated to do better in the future.

Guan Chunhong
Senior Program Manager
Orbis China