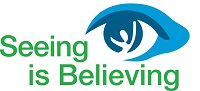 SiB has funded over 80 research studies, which partners have used to enhance project delivery, to advocate for eye health or for planning purposes.
The interactive map below is all of the SiB funded research.
Blue pins are Mid-Term Reviews or Final Evaluations; Orange are project specific Studies; Yellow are Rapid Assessments of Avoidable Blindness (RAABs); and Green are Knowledge Attitude and Practice (KAP) studies. So you can either select the type of research you are interested in, or zoom in to a particular country or region.