SiB Star: Cosmas Bunywera (Kenya)
Operation Eyesight is pleased to nominate Cosmas Bunywera, IT technician at Kitale Eye Unit, as its SiB Star.
Story by Ronald Kefa, Project Officer, Operation Eyesight.
It's Sunday, October 25 and the Standard Chartered Nairobi Marathon is on. Amid the hustle and bustle, a young man shuttles restlessly between shooting photos and registering visitors at Operation Eyesight's exhibition stand. His name is Cosmas Bunywera. During the intermittent breaks from serving the milling crowds, we carry a punctuated conversation…
As an information technology graduate, Cosmas is an unlikely SiB Star. Cosmas' passion and commitment for eye health started back in 2012 when he was hired as a maintenance engineer during a study in Nakuru, Kenya on the causes of blindness to people over the age of 50.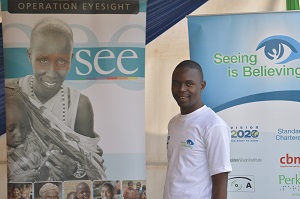 "Moving around on bad roads with sophisticated, fragile equipment was a challenge and a great risk, too. There had to be a better way of doing things. This is when the smartphone-based application that converts a phone into an eye testing device – the Peek app – was born. Peek stands for Portable Eye Examination Kit," he explains. I can't help but imagine him "peeking" into someone's eyes to diagnose an eye condition.
Cosmas manages Peek's devices and advises on its adaptability, as well as trains teachers and community health volunteers on how to use the app effectively. He's also responsible for reporting glitches to the international Peek team and dealing with technical problems.
Since the turn of 2015, Cosmas has been collecting patient impact stories for Kitale and West Pokot projects. "Since the end of the Peek pilot school study and in anticipation of a scale-up in 2016, I've been going to eye camps and participating in activities like visual acuity testing, photo and video shooting, and story collection. I go to school screening programs, too," he explains.
Cosmas goes to great lengths to share patient stories, from the remotest and most desolate villages, with a global audience. He's able to tell these stories from a non-medical perspective, appealing to all readers. "During story gathering, I go to places where paved roads and mobile network are unavailable. Rain and the scorching sun don't spare any of us during these times," says Cosmas.
What motivates him to pursue patient stories so passionately? Cosmas explains: "Ever since I got involved with eye care four years ago, I've been motivated by the pure joy that radiates from a patient's face whenever they regain their eyesight. You see, in many cases, people who are blinded by conditions like cataract think they've lost their sight completely because they're unaware that it can be treated. They become dependent, which takes away their dignity and makes their life very difficult. I feel so happy when I see their lives changing for the better after treatment."
It's getting busy as more and more patrons visit the exhibition stand, curious and eager to get screened using Peek. I ask Cosmas, what's the most touching patient story you've ever told? "The saddest story I ever collected was about a young boy with poor vision who was almost drowned in the river by his own father. The boy's father believed his son's eye condition was a curse to his family and swore that he could never raise a blind child." He pauses for a moment, and then adds, "I believe this child's life might have tragically ended were it not for his grandmother who took him under her wing until his cataract was detected. The boy's low vision was discovered during a school screening and he was successfully treated at Kitale Eye Unit."
Asked about his impression of Cosmas, Dr. Andrew Bastawrous, an ophthalmologist and co-founder of Peek Vision, had this to say:
"I first met Cosmas in 2012 when we were getting the Nakuru eye disease study set up. It was a very logistically challenging project requiring us to set up 100 temporary eye clinics all over the region. We needed much more than eye knowledge and Cosmas brought a 'can do' approach to any problem we faced. From fixing the generator to hauling expensive and delicate eye equipment up and down three flights of stairs every day, Cosmas always worked hard and with a smile on his face. We are delighted that he has continued from the birth of Peek to be working closely as Dr. Rono's right-hand man to extend the work Peek is doing in Kitale and beyond thanks to our partners Operation Eyesight Universal and SiB."
Cosmas' dedication to eliminating avoidable blindness and his passion for sharing patient stories with the world are just two reasons why Operation Eyesight is proud to nominate Cosmas as its SiB Star.