SIB Star: Lansana Sheriff, Cataract Surgeon, Kenema hospital Sierra Leone
Nominated by Sightsavers
Lansana Sheriff is a 43 year old Cataract Surgeon at the eye department of the Kenema government hospital in the Eastern province of Sierra Leone, who has demonstrated qualities of leadership and resilience during the recent Ebola epidemic.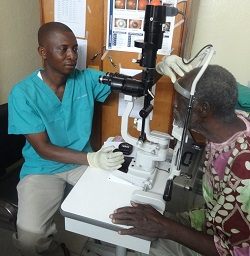 Although some of the hospital staff abandoned their work in fear for their lives, Lansana and his team in the eye department continued to provide services while taking precautions and fortunately they avoided infection.
In June, a number of patients in Kono district were diagnosed with conditions including cataract and pterygium.
This presented a dilemma, as those with cataract needed surgery and would eventually become permanently blind without it, but Ebola was still a danger especially as the Ebola virus can be present in the eye.
After deliberations, a decision was made to go to Kono to provide the much needed service. Lansana and two ophthalmic nurses operated on 30 patients for cataract and 15 for pterygium.
A four year old was among those patients with bi-lateral cataract and his sight was restored after both eyes were operated on. Lansana commented that "I felt we had made the right decision to come to Kono even when knowing all the risks involved. If it were not for our decision, this small boy would have been blind for life".