SIB Star: Mr Jairos Fumpa (Zambia)
Nominated by Orbis
Cataract surgeon, Mr Jairos Fumpa, has contributed significantly to the success of the Saving Sight, Changing Lives SiB project in North-Western Province of Zambia. Based in Kasempa district he is Executive Director of Mukinge Mission Hospital, a second level health institution.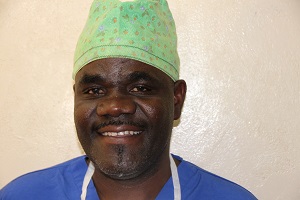 For the last three years Mr Fumpa has facilitated the implementation of a partner-driven cataract surgical schedule and has performed almost 100% of the cataract operations in the project.
His commitment and dedication to eye healthcare has built confidence and trust within the community resulting in an increase in the number of cases of viable cataract operations being booked at a community level.
Mr Fumpa has used his position in management to influence critical decisions that have resulted in a highly competent surgical team that has facilitated province wide cataract surgical initiatives in collaboration with base hospitals.