Sightsavers Sri Lanka: A quality and sustainable project through innovative approaches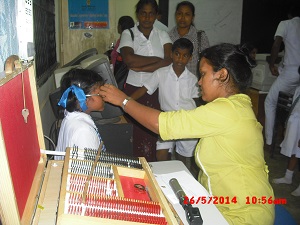 Sightsavers' Colombo Urban Comprehensive Eye Care Project (CUCEC) was implemented from July 2009 to June 2014 in schools and poor urban slum communities in Colombo and Kandy districts in Sri Lanka, with an overall goal of reducing avoidable blindness, specifically targeting the growing problem of uncorrected refractive error.
An external project review carried out in December 2013, as well as Sightsavers' own learning, revealed that a number of innovative approaches helped ensure quality and sustainability of the project.
They included: use of existing government structures and encouraging government authorities to take ownership; building a vibrant team through human resource development; use of Standard Chartered volunteers in project activities; adoption of added value practices; and facilitating public and private sector partnership.
Use of existing government structures: The project used Medical Officers attached to MOH offices, the smallest administrative unit of the health system, to organise and conduct teacher training programmes. This increased not only the participation of teachers, but also the interaction between education and health authorities.
Establishment of six satellite clinics in government hospitals in the periphery in Colombo district was an unplanned addition to the project, which increased access for hard-to-reach communities and increased their awareness of eye health. Satellite clinics are currently functioning with government staff.
Human resource development: Training teachers on primary eye screening brought multiple benefits. They not only identified children with eye impairments at the screening programmes, but also helped enormously to reduce to a manageable level the workload of a limited number of Vision 2020 Secretariat staff, and facilitated timely referrals for refractions. Schools have started taking ownership of this programme with the commitment of trained teachers and the support and understanding of school principals. The Department of Education has recognised the role of teachers in early identification of visual impairment in children, and making classrooms child-friendly to support education.
Standard Chartered volunteering: Volunteer support from local Standard Chartered staff at the school screening programmes and community outreach camps was instrumental in reaching more people.
Added value practices: Some strategies added extra value to the project as explained below:
o Spectacle distribution ceremonies to motivate teachers: Spectacle distribution ceremonies were planned not only to distribute spectacles, but as a function to build confidence among teachers and show appreciation for their commitment, thereby increasing their motivation.
o Combined awareness sessions with key activities: Combining awareness sessions with key activities like screening programmes in schools and outreach camps helped to reach more people. Such awareness programmes together with availability of services created huge public interest in eye care, and encouraged eye health-seeking behaviour.
o Counselling for children and parents: Counselling programmes for children who are to wear spectacles for the first time, and their parents, helped educate both children and parents and ensured compliance in spectacle use.
o The positive changes that the spectacles brought to the lives of children significantly raised awareness about refractive errors and increased demand for eye care services among their communities.
o Recognition given to Primary Health Care (PHC) staff: The acceptance of patients referred by PHC workers at the eye units in hospitals raised the profile of PHC workers. This recognition helped PHC workers to organise community screening programmes with the support of community members.
Facilitating public and private sector partnership: Prior to the completion of project, Sightsavers Sri Lanka Country Office facilitated a new partnership between the local Standard Chartered Bank and the Ministry of Health to continue the school screening programme in Colombo for another two years, with funding provided by the Bank. As Country Director Dr Sunil Fernando says, "even if we are no longer here, these partnerships can continue".

Lakmini Dissanayake
Programme Officer, Sightsavers Sri Lanka Country Office