Standard Chartered Bank Volunteering update – Why we focus on Skills-based Volunteering
Skills based volunteering is important for Standard Chartered as it capitalises on our employees' knowledge and experiences to contribute to the community. Not only does it address challenges to match available expertise and talents to non-profit business goals, our employees can gain/ refresh knowledge through teaching, coaching and mentoring. As you can see by the YoY comparison, this year we have more than doubled volunteering hours providing Financial Education volunteering opportunities. The challenge will be on how to sustain this as well as keep a balanced participation and engagement rates on SiB.

As you can see there is a decrease in SiB –related employee volunteering (EV) days in 2014, but this is under the context of an overall 15% decrease in total EV days and an increase in skill-based volunteering (see Financial Education as an example).
See further breakdown on a month-month basis for SiB. You can notice the effect of World Sight Day in October/Nov.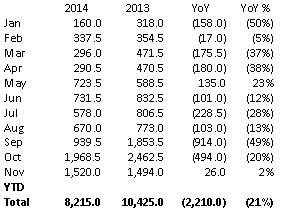 September 2013 – GSSC India conducted SiB Rally at Marina raising awareness and fund raising. This activity engaged nearly 900 days.
An Eye Opening Walk!
The picturesque Marina Beach, the pride of Chennai is the 2nd longest beach in the world. In September 2013, it played host to a sea of a different kind- a sea of excited faces! Over 1000 people including volunteers from Sankara Nethralaya, 900 of the Bank's volunteers, with their families in tow lined up at the Marina early on a balmy Saturday morning. Their task was to walk from the famous Labour Statue to the even more famous Kannagi Statue to complete a kilometer's distance to commemorate the National Eye Donation Day which fell on 8th September.

The day started with interesting and meaningful games with an SiB perspective. One group of volunteers were blindfolded and asked to identify different fruits, and another group of blindfolded volunteers had to manoeuvre through an obstacle course.
This activity helped participants reflect upon the difficulties faced by visually challenged people in their daily life. Following this activity, it was time to flag off the rally. The Chief Guest for the day was Archana Ramasundaram, IPS, Deputy General of Police. When the chief guest flagged off the rally, a thousand blue and white balloons were released in the sky. What a sight it was to watch the wide blue sky spangled with balloons and the backdrop of the spectacular Marina added to its glory. The line up not just included our volunteers but also their spouses and children who walked hand in hand holding placards and banners to show their support for this noble cause.
Routine morning walkers, fitness enthusiasts and beach goers were filled with curiosity as they paused for a moment to watch the rally and read the messages on the placards. The huge group successfully reached the end line as onlookers cheered and wished our volunteers. It was heartening to watch several children right at the front holding thoughtful messages. There were also volunteers carrying their babies who were barely a few months old. This was definitely volunteering at an all new level!
To mark the World Sight Day, around a hundred staff in India volunteered to deliver eye care services under the Seeing is Believing (SiB) programme across our communities in Mumbai on 8 and 10 October 2014.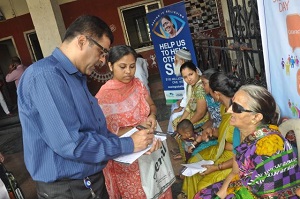 Our trained staff volunteers performed first level eye screening using the vision chart and string. Women with refraction error, redness in the eye, squint, or cataract were instantly referred to the mobile vision centre that was arranged outside the camp site. Children accompanying their mothers' were also tested, and younger children with eye problems were referred to the base hospital.
One of the key target groups under the Seeing is Believing programme in Mumbai are the floating population – labourers, drivers, municipal workers, sex workers, etc. Bandra-Kurla Complex continues to be developed, as a result there are many casual labourers found in area. Staff took the initiative to educate casual labourers and rickshaw drivers around our office on the importance of eye care and provided them with guidance on treatment and information on the SiB Vision Centres in Mumbai.
Blindfolded Super Chef – a sensitization event, gathered staff interest. Staff involved themselves in preparing a healthy meal by engaging senses other than sight. The event helped us spread awareness on the importance of avoidable blindness, in a fun yet healthy manner. The event was conducted during lunch hours, and the proceeds were donated to SiB.