Operation Eyesight Universal Zambia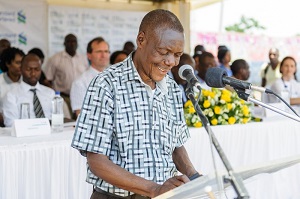 This year's World Sight Day was held on the 13th of October 2016 under the theme, "Stronger together". Operation Eyesight Universal and partners celebrated World Sight Day in Chawama.
Zambia's World Sight Day was conducted in a number of provinces and the Lusaka celebrations where conducted at Chawama school grounds just opposite Chawama clinic.
Chawama is one of the compounds that is taking part in the SIB project under Standard Chartered Bank (SCB) with the aim of eliminating avoidable blindness in the three underserved compounds of Lusaka Chawama, Mandevu and Bauleni.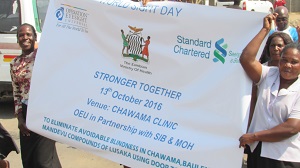 The speaking engagement event was well attended and received news coverage across the country. The Guest of Honor for the event was Hon. Dr, Chitalu Chilufya, MP- Ministry of Health.
The following organizations/ Partners were in attendance:
Standard Chartered Bank, Operation Eyesight Universal, Orbis, Zambia library cultural and skills Centre for the visually impaired, Lions Club, University teaching hospital, Chainama College, Sightsavers, Dr Agarwal's eye hospital, the British Ambassador to Zambia and the Member of Parliament for Chawama constituency Hon. Lawrence Sichalwe MP.
We truly are stronger together!

Patson Tembo
Country Manager – Zambia
Operation Eyesight Universal
---

The Fred Hollows Foundation Vietnam
Bringing eye services closer to communities
The Vietnam Child Eye Care (VNCEC) project, funded by Standard Chartered Bank and implemented by The Fred Hollows Foundation, is designed to support the integration of the health and education sectors in Vietnam to improve the eye health of children aged 6-15 through the development and adoption of National School Eye Screening guidelines.
With the lessons learnt from its three piloted project provinces, Hai Duong, Da Nang and Tien Giang, the project hopes to improve and inform the decision-making for the national adoption of school eye health policies and guidelines.
Through this project, teachers and school staff will have a better understanding of eye health and school eye health in particular, thus playing an important role in promoting eye health within primary and secondary schools. More importantly, millions of school children will have an opportunity to receive better eye health education, and are more likely to seek out treatment for eye problems.
Standard Charted Bank (SCB) Volunteering
To celebrate World Sight Day 2016 with its theme "Stronger together," SCB staff participated in many activities within the VNCEC project provinces.
On 22nd October 2016, in Tien Giang province, SCB staff attended a meeting at Phu Tan Primary and Secondary School to highlight the importance of World Sight Day, the value of the VNCEC project and the importance of eye health in children. They were joined by representatives from Phu Tan Primary and Secondary School, provincial Department of Education and Training, and the Provincial People's Committee, and more than 400 school students.
Following the meeting, SCB staff participated in eye examinations, and prescription and glasses provision for school students organised by Tien Giang Eye Hospital. As a result, 40 students were diagnosed with refractive error and seven students were provided with free glasses.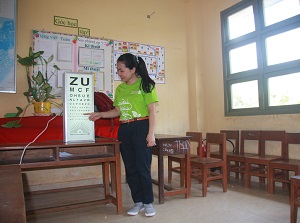 SCB staff member demonstrates reading an eye chart at Phu Tan Primary and Secondary School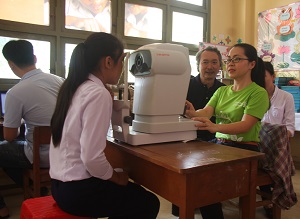 A Tien Giang hospital staff member demonstrates how to use the eye screening machine.
On the same day, SCB staff also volunteered to clean classrooms and plant trees at Phu Tan Primary and Secondary School together with students. This was a practical activity to improve the learning environment for students, encourage them to maintain a healthy lifestyle and spend time outdoors – one of the key activities to having healthy eyes!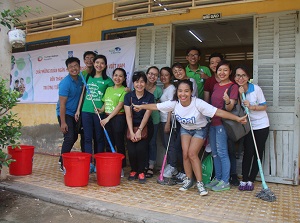 SCB and FHF staff along with Phu Tan Primary and Secondary School students
In addition, to celebrate World Sight Day 2016, on 29th October 2016 in Hai Duong province, five SCB staff and school teachers helped take students living with disabilities to the Hai Duong Social Sponsorship Centre to Ophthalmology and Dermatology Hospital for eye examinations. SCB staff were eager to participate in the eye examination process, recording children's information, helping with making glasses and helping children to try on glasses.
Meanwhile another group of SCB staff helped repaint toys at the school playground (see picture below), sang and danced with students, and gave awards for best performers at the Hai Duong Social Sponsorship Centre. These were meaningful activities in which SCB staff could gain first-hand experience working with disadvantaged children and understand the significance of child eye health. For students at Hai Duong Social Sponsorship Centre, this was a chance for them to understand their rights to health in general and eye health in particular.

Phan Song Thao
Project Manager
The Fred Hollows Foundation Vietnam
thphan@hollows.org
---

Sightsavers Zambia
The SIB project in H1 had networked well with other partners in ensuring attainment of its H1 deliverables. The networking involved collaboratively working with Chainama College of Health Sciences students in undertaking screening during the Intercompany relay, the Agriculture and Commercial Show as well as supporting the Districts to do more screening. The involvement of traditional leaders was another milestone in the project in getting the right level of leadership to effectively reach out to people.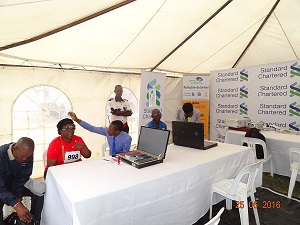 Sightsavers and the Bank team held two outreach screening activities during the period under review. These were at the Inter Company Relay and the Agriculture Commercial Show. During the Inter Company Relay, eight Bank staff participated in screening activity and more than 10 members of staff participated in the screening during the Agriculture show.
The Bank staff participated in registration of clients as well as doing basic visual acuity. The screening was supported by the Chainama College of Health Sciences. One member of the SiB Council in Zambia was also part of the start-up workshop at the beginning of the project.

Francis Kalusa
Senior Programme Officer
Sightsavers Zambia
---
Orbis/Helen Keller International/Eye Care Foundation Vietnam
On the occasion of the project launch, a volunteer activity was organized for the bank's leaders and staff to perform eye checkups for children at Can Tho Children's Hospital.
In order to assist doctors to perform eye examinations, the bank's staff members were trained in basic knowledge of childhood eye problems, including how to identify the conditions and conduct vision testing. This training for the volunteers was adopted from the pediatric primary health care training course.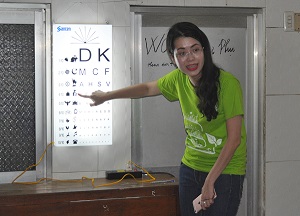 With the knowledge and practical skills learned on the one-day training course, the bank's staff were able to handle patient flows, conduct the vision acuity test, convey communication messages, and consult with the patients' parents on treatments needed and regular eye checkups. Nearly 100 children had eye examinations and 10 premature babies at risk of premature retinopathy were screened on the volunteer day.
Through the exercise, the desire and commitment of the bank's staff to contribute to eliminating childhood blindness increased, reinforcing their belief that 'Seeing is believing'.
---

Orbis China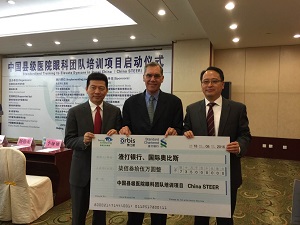 An impressive Opening Ceremony was held in Beijing to open newest "Seeing is Believing" project. Working with Orbis new partners, the National Prevention of Blindness Committee and Chinese Ophthalmology Society will focus on training rural, county level eye-care teams. This project was requested directly by the Bureau of Medical Administration (MOH) to address objectives in the current PBL plan. They will directly oversee the implementation of the project.
The project named Standardized Training to Elevate Eye-care in Rural China (STEER) is the newest SIB project with 1 million USD funded by Standard Chartered Bank. Among the main focus of training for the county level teams will be hands on training for doctors in cataract surgery and improving RE services.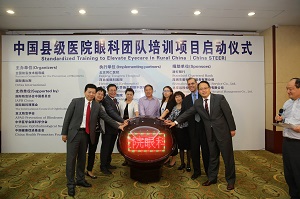 The ceremony was attended by high level members of government and Standard Chartered Bank including Ms Jiao Yahui, Deputy Director of the Bureau of Medical Administration ,MOH. And Mr. John Hong, Managing Director, Corporate Affairs, Standard Chartered, China and Dr. Wang Ningli, President of the Chinese Ophthalmology Society and Deputy Director of Tongren Hospital.
---