The Fred Hollows Foundation – China
Seeing Is Believing Phase V China: Replicable Comprehensive Rural Eye Care Model for Vulnerable Groups in Inner Mongolia
This project aimed to improve policy and practice in providing quality of rural eye care services by developing a comprehensive rural eye care model in the Inner Mongolia Autonomous Region, China.
The following are key learning strategies for comprehensive rural eye care model projects. The project underwent a mid-term review in November 2015, mid-way through the three year project, which is attached for further information.
1. Effective engagement of multiple local government departments/organizations can be achieved by installing a project management committee (PMC).
The role of the PMC is to provide or obtain coordination support to ensure successful implementation of the project activities, promote successful experiences and best practices developed from the project, and help advocate for the project model at national/provincial level.
The management committee consists of local project implementation partners, the health and family planning committee, the education department, the medical doctor association (MDA) and the disabled people federation at provincial level, which each of whom is responsible for coordination and resource mobilisation. One organisation should be the focal point of the project management committee to ensure the quality of coordination between the government departments.​
2. Set up local capacity building mechanisms for eye health care personnel so that capacity building activities are systematically delivered from provincial technical support down to primary eye health care workers.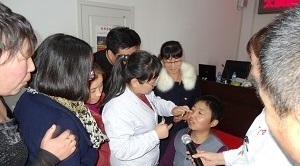 The project provides master training (TOT) for the eye doctors and nurses at provincial hospital level, and assists them set up a technical support centre.
The doctors/nurse trained as trainers provide trainings on site and distance technical support for health care workers at county/village level.
3. Strengthen the referral networks by providing and following up primary eye care training for village doctors.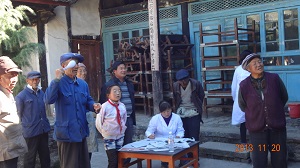 The village doctors/primary health care workers trained by the project conduct eye health education in the village/community, provide primary eye health checks, refer and follow up patients to the county level hospital.
To monitor the village doctors' performance after PEC training, (besides regular data collection, such as number of participants, change in knowledge level of pre and post training) the volume of referrals by village doctors will also need to be collected.
This meant that the data collected about the patients at hospitals needed to be strengthened, disaggregating by those referred by village doctors and walk-in patients. Any breakdown in the referral pathway will be identified by collecting more indicators and actions can then be taken accordingly to improve referrals.
Author:

Smiley Wang
Country Manager, China FHF Office
Co-Author:

Ming NI
Senior Project Officer, China FHF Office