LFC help boost SiB profile again
During Liverpool FC's match against Manchester United on 17th October, we swapped our Standard Chartered logo on LFC's shirts for 'Seeing is Believing' (SiB), in an effort to raise money and awareness for avoidable blindness.
The Perfect Match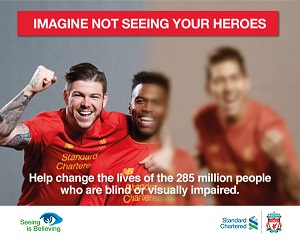 This is the fifth time we've run this campaign, known as the Perfect Match, but the first time we've linked the campaign with World Sight Day. It's also the first time we've swapped logos at such a high profile televised fixture, with global audiences estimated at 700 million viewers.
The campaign was supported by current and former LFC players, but the highlight of the two week online and print media campaign was a promotional video featuring LFC Manager Jurgen Klopp – a renowned glasses wearer – discussing how it wouldn't be able to do his job without access to good eye care.
Fans dig deep for a worthy cause
Following the campaign, the special edition SiB shirts were signed by the players and auctioned globally, alongside Captain Jordan Henderson's boots and armband, and a replica pair of Jurgen Klopp's glasses.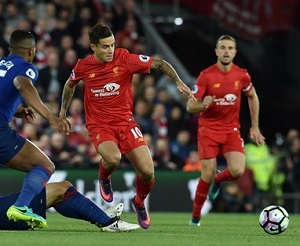 Campaign stats and facts
USD47,700 raised to-date before Bank matching
Digital advertising (Facebook, Twitter and LFC.com) – over 42 million potential viewers
Online and print media – 83 pieces of coverage generated worldwide with an estimated readership of 4.3 million
The remaining signed SiB shirts will be auctioned off via in-country client auctions throughout the rest of the 2016/17 season.
How will this money be spent?
The money raised will be used for children's eye health projects in China and East Africa, and to develop another child eye health project in Indonesia that was launched on World Sight Day 2015.
If you'd like to make a donation to SiB, please visit seeingisbelieving.org.
Helen Morgan
Manager, Liverpool FC Sponsorship
Standard Chartered Bank