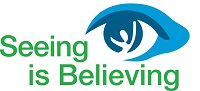 Consortiums: Why work in one? Some reflections from and for SiB partners and projects.
We all have a natural style and personality, and this carries over into our working life. We all know colleagues who are very sharing and involve others in all their work and thoughts. Possibly sometimes too much – we need to get on with our own tasks too. And we also have known colleagues who never share anything, not even their stapler! Organisations also have their own styles and personalities, and some are more outward- ( or inward-) looking than others. Neither is intrinsically good or bad. But for organisations, who claim to be "piloting" ways of working with others, and advocating for best practice, perhaps a more inclusive and sharing approach or style is a better starting point. But to really work with others on a specific or common project often requires a real effort on the part of organisations, as well as the key individuals involved with the project. There is a wide difference between just meeting and communicating your plans and ideas, or improving levels of coordination and cooperation for specific activities, to really collaborating together on key shared ideas, ideals and practices. This requires recognition of the skills and expertise that others bring to the shared objectives.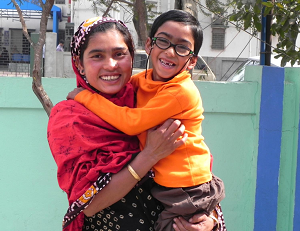 Please see the latest edition of the Community Eye Health Journal "Teamwork for Eye care" (Vol 27, Issue 86 2014) to think about working in teams in general. A consortium is just a recognised team. In this edition you see "Consortiums" are being created at several levels. Eg The Commonwealth Eye Health Consortium. What any Consortium is trying to achieve is to get people working together, and to prevent "re-invention of wheels" by having people share ideas, experiences and learning in an efficient and effective manner. So that eye care will develop and deliver in a competent and professional manner alongside other health care delivery.
For the Seeing is Believing child eye health projects we are interested in promoting quality eye care / visual services for children in need. This ranges from identifying and referring children with visual problems (from the minor to severe), through to assessment and initial treatment and appropriate follow up, through to long term support and training for those children who require it. This is a complex set of children's needs and hence complicated service delivery. In most countries no single key institution or even one ministry offer or oversees the whole range of services the children require. So too among international eye care organisations, no one organisation provides the full range of expertise or local contacts. So the idea was to ask eye care organisations to form and work in a consortium at the country or regional level to deliver a quality project covering the range of technical expertise required for a project working with children. Being in a consortium, with one plan and one budget "pushes" organisations to work together, and ensures they try and cooperate and collaborate over the common objectives.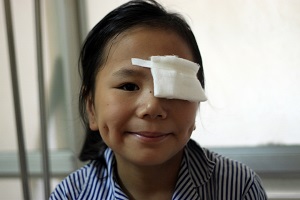 This is clearly a completely new way of working for many in the eye care sector. It may even seem that competition and mistrust rather than cooperation may be a previous style of interaction in some countries. Also as a 'health system approach' is promoted and accepted as the efficient and sustainable way to work, more cooperation with others outside of the immediate "eye care unit" is now required. And for child eye health services involving the Ministry of Education (and even Social Welfare and others), this adds other layer(s) of complexity which needs to be considered. But eye care organisations have risen to the challenges, and have overcome local issues to start to work towards the one common goal for the SiB Child eye health projects: to improve eye care services for children in general and individual outcomes for specific children with visual needs.
We do not expect this to be a quick or easy leap for organisations who have previously not regularly considered others in their field when planning and working in complex projects at the country level. But as ministries and national institutions gain technical skills, expertise and funds themselves, they will need partners who can work with them. So skills in cooperation and collaboration are good styles to develop.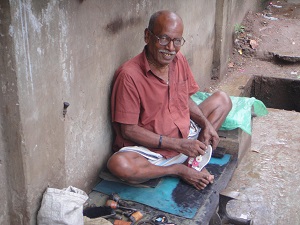 But what is the difference between all these terms, and what does this mean in practice? The two informative pieces from Orbis in China and BHVI in East Africa raise many of the issues they have had to face and overcome in both their local consortia. And at the recent Nairobi meeting (with participants from many within the CBM and BHVI consortia across the region) there were many examples of both the positive outcomes from being in a consortium, but also the local, national and technical challenges of working together for a common goal.
But for other organisations and individuals considering this approach for project delivery – I offer the following table which suggests some key linkages and differences between Coordinating, Cooperating, and Collaborating. And hopefully this gives clear pointers to the need for clear planning, communicating and sharing when working with others. And for complex issues, being in a recognised consortium helps with clear planning and involvement for all relevant actors. At the individual project level when dealing with complex issues, you want to move further to the Right side of this table to "achieve collective results that would not be possible working alone", or even get to "innovative, extraordinary results" and "shared visions". May your consortium find the "eureka moments", which will demonstrate mutual trust and respect.
If you are interested in this area further, please see the article by Dave Pollard on Comparisons of Coordination, Cooperation and Collaboration:

Sally Crook
Seeing is Believing Programme Manager, IAPB, London