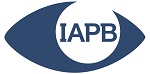 The prevention and treatment of sight loss carried out through Seeing is Believing and other eye health programmes and projects lead to significantly improved lives for people: increasing well-being, ability to get a quality education, and decent employment amongst many other benefits. However, sometimes it is evident that there are challenges beyond the immediate scope of a project that need to be tackled to ensure the projects meets its aim, and as is often the case, the scale of the problem makes it impossible for one organisation or project to solve the problem beyond a particular community/ location. Further eye health projects are best integrated into government delivery of eye health services, and governments have a responsibility to ensure that people have access to health services, to progressively realise the right to health ([1]).
Taking these challenges into account, and to ensure long-lasting change, there will frequently be a need to influence stakeholders not directly involved in the project such as health practitioners, corporate providers, national, regional, and local governments.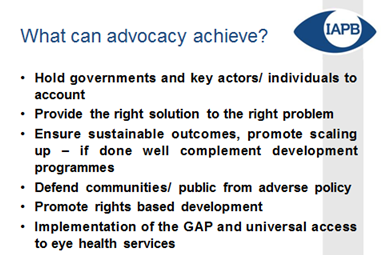 There are a number of steps that should be taken when carrying out any influencing/ advocacy. No matter what you are trying to achieve whether a small localised change or a major seemingly intractable challenge, planning will be essential. If the challenge is a big one, there will be considerable advantage to working with allies in the eye health world, other NGOs, eye hospitals, corporates, the National Prevention of Blindness Committees and National Eye Coordinators, as appropriate, developing plans collectively in workshops with sufficient time to explore problems and solutions in some depth, including research to ensure that the solution being offered is indeed the best one.
First, start with the end in mind, that is – determine your aim:
As with development programme planning, when carrying out advocacy planning it's very important to consider the problem and what you want to achieve, the aim – in relation to people's lives or the world we live in ([2]). It's essential to take this into account to make sure that the rationale for trying to influence a change is the right one. Here are some examples:

Second, set your objectives, the changes you want to policy, practice or behaviours:
Objectives should be tangible changes that you can work to influence which will contribute to achieving the aim. First consider the cause/s of the identified problem. In any given context there will be one or most often several challenges or blockages that are hindering achievement of the aim. Advocacy planning requires analysis of the problem, considering the causes, and prioritising which ones to tackle by setting an objective/s. Some examples of direct and indirect causes of eye health problems, include: costs are too high for the poorest people due to insufficient social insurance coverage; lack of personnel within a country or a region; lack of facilities or adequately maintained facilities; eye health is poorly integrated within primary healthcare; insufficient data for evidence based policy making and practice; inadequate guidelines or inadequately implemented referral systems, amongst others.
Some of these may be tackled, or at least partially tackled, through service delivery within projects, but others may require influencing changes to budgets, policies, practices managed by other actors whether governments, health providers or otherwise. Here are some examples of objectives, the more specific the better.
· National human resources for health strategy, training, retention and recruitment policies adequately incorporate eye health
· New training programmes for eye health personnel in meet Vision 2020 targets at all levels of the eye health team by [date]
· District Education department implements a programme of eye health screening in schools
· Primary health care workers in effectively incorporate screening for DR
· Government increases allocation of eye health budget by x amount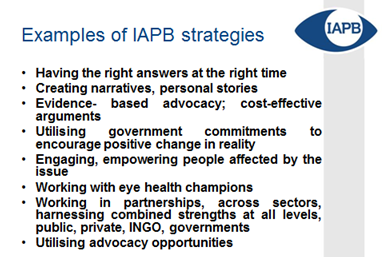 Third, develop your strategy, and action plan:
This involves deciding what you want to do, who you need to influence and what kind of methods you will use.
The strategy should include objectives, targets and key messages and your action plan will include detail on planned activities, such as who will be targeted, numbers, dates etc. (for ease the strategy and action plan can be in the same document as suits the particular case).
Activities might include meetings, events, community mobilization, and/ or press, as appropriate to the change you want to achieve.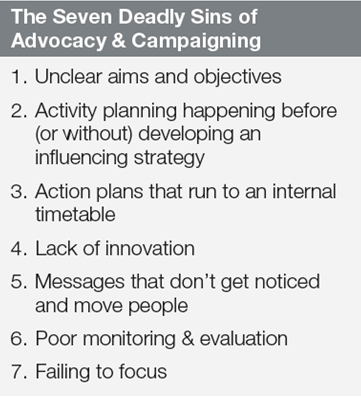 The approach will depend on the political context, resources, and capacities of the organisation.
It will involve mapping out stakeholders and influencers and determining, who needs to be influenced and what will be the means to effect change.
In some cases there may be merely a lack of awareness of the problem, or the solution, in others vested interests, competition with other actors, and a lack of perceived benefit for making the change, may need to be overcome.
When considering actions, and approaches, the political culture, civil space and influence of stakeholders (government, media, IGOs such as World Bank, UNDP) will need to be taken into account.
Personal interest, money and cost effectiveness, hearts, beliefs, commitments, promises, economic and social realities, can all potentially affect your cause.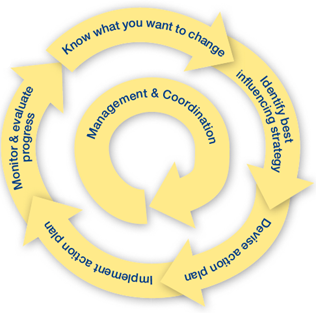 As you undertake implementation, advocacy strategies/ action plans will need to be monitored and reviewed frequently, against the aim and objectives, especially if the political landscape is changing.
It will be important to frequently review progress, and assess if the actions are having the desired effect, if the objectives remain appropriate to the aim and so on, and adjust if necessary.
Many of the ideas, and graphics here are based on/ taken from IAPB's 'Advocacy for Eye Health: A Practical Guide'.
In it more detail is available on the different steps and exercises which can be undertaken to help design and implement effective advocacy.[3]

Zoe Gray
IAPB Advocacy Manager
---
[1] ICESCR – http://www.ohchr.org/EN/ProfessionalInterest/Pages/CESCR.aspx