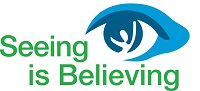 I went to the opticians the other day, you may think that working for IAPB, this is something I do regularly, but like everyone, I've been busy lately & I knew I probably needed to buy some new spectacles, so I had been putting it off. So I was interested to read the Sightsavers Bangladesh research article on understanding demand & provision of eye care services among slum dwellers in Dhaka, where the research found that yes, costing spectacles so they are good quality but also affordable is important, but the lack of awareness & low priority given to eye care were also factors that have to be considered in eye health programmes.
Of course, if we don't have the data on the number of people who require eye services, or the provision that is available, and the quality of that provision, then again, it is very difficult to plan an intervention which supports the gaps in the existing system. There are some great articles on the monitoring systems that some of our project partners use & the learning from monitoring & how they use their data.
In the development sector, we are increasingly required to demonstrate the impact our interventions have. Sally Crook gives us an insight on Impact, what it is & how we can start to think about it. A couple of NGO partners also explain how they evaluate the impact of their projects.
When we are reviewing the SiB project reports, one of the questions we always ask is 'how will this project be sustainable', or 'how will the project activities continue once the SiB funding stops'? Carmen Choy, Head of SiB, Standard Chartered Bank, explains why sustainability is so important, from the bank perspective. Additionally, a number of our NGO partners explain how they ensure sustainability in their projects.
I am often impressed when I hear about the excellent Standard Chartered Bank skill-based volunteering opportunities that we see in projects, so we are sharing some of the best of them. We have also developed some SiB project visit guidelines that we hope will be useful for both NGO & bank staff.
It is always exciting when new SiB projects have started, a number of them introduce their projects to us. And for those of you interested in the SiB portfolio of projects, and how we are progressing to reach our targets, I have done an overview of the Phase 4 & 5 SiB projects.
Finally, thank you to everyone submitting contributions to the newsletter, it is great to use this newsletter as an opportunity to share the key learnings from your projects, so we can benefit from sharing best practice.
(Curious to see how the Seeing is Believing Newsletter mailer looks? Here you go)

Susan Evans
SiB Project Officer, IAPB