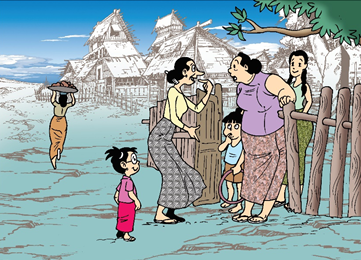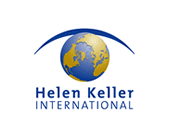 Helen Keller International Myanmar – Behaviour Change Communication
A New Approach to Communication
In Myanmar, approaches to education tend to be based on repetition and rote learning. "Adult education," with its emphasis on participation, discussion and drawing on the learners' life experience is a relatively new concept.
As part of efforts to increase the number of patients accessing surgery for cataract, a potentially life-altering condition which can destroy vision, SiB's CARROT project recently developed an interactive learning tool in the form of a storybook.
Learners, typically older adults living in rural areas, view illustrations while a community outreach worker reads the story of Daw Than Kyi, an elderly women who is motivated to seek treatment for her cataracts when she can no longer see her beloved grandchildren. It walks through the process of accessing treatment, along the way addressing common fears about the surgery such as pain and long down time.
CARROT's field staff recently shared the story with villagers and outreach workers in Myanmar's central dry zone, and found this learning approach generated lively discussion and an increased understanding about cataract and eye surgery.
"Now I see that blurred vision amongst elderly people is often caused by cataracts and it is beneficial for them to have their eyes checked up annually at least," said one woman, sitting in the small village of Pann Tine Chone.
"This story is actually very true for us, as health workers. I had a similar problem like this where an elderly woman was afraid to undergo cataract surgery, yet after the surgery she was very pleased and satisfied with her post-operative vision. This storybook will definitely help us reach out to the community and it will be easier for us to conduct education sessions about cataract, including the surgery and post-operative cares," commented a health worker at the clinic of Nyaung Gyit Pin sub-center.
In the coming six months, the book will be distributed to over 1,000 outreach workers who are addressing this critical eye health issue in their communities.
Dr. Maung Maung Lin
Technical Coordinator
Helen Keller International Myanmar
linyonethet@googlemail.com