Why do around 95% of people suffering Diabetic Retinopathy not visit hospitals for examination and treatment?
Due to changes in lifestyle and diet, Diabetic Retinopathy (DR), damage to the retina caused by the complication of diabetes, is fast becoming one of the major causes of avoidable blindness in China. This is particularly true in Inner Mongolia, where the way of life of the province's many ethnic minority groups, in particular the Mongolia people, increases the risk of the disease and its blinding complications.
With the support of Standard Chartered Bank's "Seeing is Believing Phase V", The Fred Hollows Foundation and its partners conducted China's first Rapid Assessment of Avoidable Blindness including Diabetic Retinopathy (RAAB+DR) survey in Hohhot, Inner Mongolia in July 2014, to assess the prevalence of DR in the province.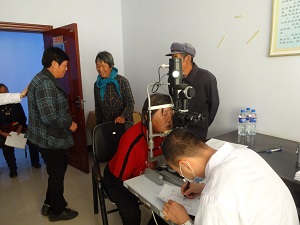 The survey's findings have now been finalized, estimating that of the 1.84 million diabetics estimated by the International Diabetes Foundation to live in the province, there are about 14,300 people who suffer from DR aged 50 or over in Hohhot City alone, and approximately 368,000 people suffering from DR across Inner Mongolia as a whole.
Shockingly, less than 20,000 of these people seek treatment at ophthalmology departments each year, meaning around 95% of people suffering DR do not visit hospitals for examination and treatment. The survey found many diabetes patients failed to seek treatment until they reached the last stage of DR, when vision impairment becomes obvious to the patient, however by this stage, the damage is already irreversible.
Lack of awareness amongst the community that diabetes leads to blindness, ability to identify and treat DR in the eye units at primary and secondary level hospitals, and adequate referral pathways from the community and diabetic departments in hospitals are key limiting factors to patients seeking treatment.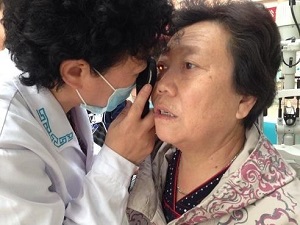 FHF is working to address this by working to equip doctors in primary and secondary level hospitals, where most of the community access services, with skills on DR prevention and mitigation, enabling them to carry out regular health education to raise awareness of diabetes and DR among the general public, promote regular examination among the patients, and refer patients that cannot be treated locally to hospitals at higher level.
In addition, partner hospitals will be supported to regularly provide screening and treatment at designated locations. In order to identify more DR patients, and provide health education to diabetes patients on eye care, the project is also working to establish internal referral systems within hospitals, supporting the training of physicians at endocrinology departments in partner hospitals to refer patients at risk of DR to ophthalmology departments.
See the diagram below for more information on the screening and referral process: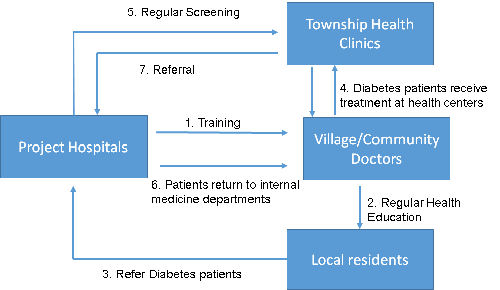 Notes:
(1) Provide training to village doctors and community doctors regarding knowledge on diabetes and diabetic retinopathy, as well as the use of examination tools commonly used by ophthalmology departments and the diagnosis and treatment of common diseases.
(2) Village doctors and community doctors regularly disseminate carry out IEC among local residents with regard to diabetes and DR.
(3) Driven by the IEC, diabetes and DR patients are referred to project hospitals for treatment.
(4) Doctors at village/community health clinics refer diabetes and DR patients to designated health centers.
(5) The partner hospital will send medical team to the designated health centers to provide screening and treatment.
(6) Patients who need internal medicine treatment will be referred back to village doctors and community doctors.
Thanks to the interventions developed by the project, people will no longer have to worry about the time and transportation costs of attending large hospitals; instead, they can now receive free diabetes and DR screening at local villages/communities, which will ensure early identification, early diagnosis and early treatment. We hope to both reduce the lack of attention paid to DR in the province, and increase the number of people seeking treatment and advice about the management of diabetes and diabetic retinopathy.
As the project has been running for almost a year, many of these activities are still in the process of being established. By the end of the project we hope to have successfully advocated for our DR intervention model to be carried on by the local government, contributing to the effective control of DR and the reduction of in DR-induced related blindness in China, and to use this model to advocate the government to change their policy to address the growing concern of DR.
Author: Dr. Zhang Guisen, Head of DR Project Partner from Chaoju Eye Hospital, Inner Mongolia Autonomy Region ;
Co-Author: Ms. Amanda Huang, Senior Manager of The Fred Hollows Foundation China Program;
Co-Author: Ms. Ming Ni, Senior Officer of The Fred Hollows Foundation China Program

Contact: Katherine Lim
Programs Officer, South and Central Asia, The Fred Hollows Foundation
klim@hollows.org