The Standard Chartered Bank Seeing is Believing – Colombo Comprehensive Urban Eye care project was initiated in 2010 and sought to increase both access to eye health services and to affordable corrective devices in marginalised communities in the capital city of Colombo in Sri Lanka. An estimated 54% of the population of the city lives in slum areas.
The goal was: To contribute to reducing avoidable blindness in Sri Lanka, specifically, targeting the growing problem of uncorrected refractive error in poor urban communities. Four key areas of intervention were identified, school eye health, primary eye care, refractive services and affordable devices (e.g. spectacles and low vision devices), Sightsavers International (SSI) focused on school eye health and primary eye care and the Brien Holden Vision Institute (the Institute) focused on provision of refractive services and affordable spectacle supply.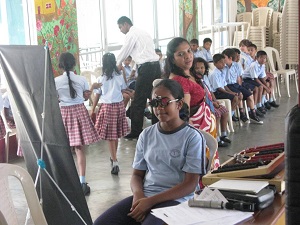 The project supported the development of two community based vision centers at Kolonnawa and Dehiwala and an optical workshop at Colombo National Eye Hospital with strong elements of capacity development; health promotion and networking. The project was implemented as planned and despite initial time delays, the project has essentially succeeded in delivering against the project objective and the key outputs.
One of the key achievements of the project is ensuring gender equality in delivery of eye health services. It is evident that communities function more effectively when gender equality is mainstreamed. Gender equality is vital for economic and human development and to support women's rights. This includes empowering women for health by creating supportive services, structures, and incentives.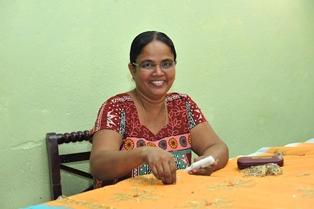 The ratio of female adult and female children accessing eye care services at Kolonnawa vision centre is 52% while at Dehiwala vision centre, it is 53%. The percentage of spectacles dispensed to female adults at hospital workshop is 53% of the total spectacles dispensed to adults. However, the percentage of spectacles dispensed to female children is slightly lower than male children i.e. 49.3% of overall spectacles dispensed to children. This can be attributed to the fact that there is a robust school screening program going on in Colombo which is very much focused on girl schools. This has resulted in slight decrease in female numbers as girls are getting free spectacles at schools.
To ensure gender responsiveness of the project, relevant strategies were planned from the project's outset as a way of enhancing the overall project outcomes. These approaches have been integrated into all stages of the project cycle. The establishment of vision centres at primary level and optical workshop at National Eye Hospital has made refractive services more accessible, especially for females, and contributed towards addressing the challenges of access, affordability and awareness. Project intervention process acknowledged and accommodated difference between men and women. Through direct dialogue with women and girls, project has been more effectively and sustainably addressing the eye health needs of communities.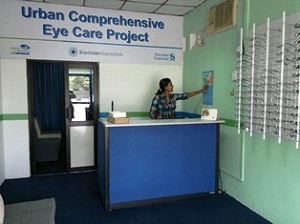 To ensure that more women are involved in providing eye health services for girls and women, the project identified women in the local communities who were then trained as optometrists, vision technicians and spectacle technicians, responsible for supporting project activities and keeping track of the project progress. This has not only provided jobs and further education opportunities for female community members but also resulted in a more enabling environment at vision centres.
The vision centres staff (mostly females) has been oriented in gender promoting practices – they believe that "we can all do something, no matter how small, to promote gender equality in our work". The environment of vision centres and optical workshop at National Eye Hospital is welcoming and safe for all. Respecting the culture sensitivity, especially in Muslim communities; targeted IEC material; and awareness-raising campaign (street dramas, posters, community awareness sessions) also has a positive impact on more females accessing eye health services at vision centres.
The project's engagement with community based organisations continues to promote gender equality in the delivery of eye health services. Involvement with local women's groups; and health promotion activities has also helped to target women effectively, to facilitate women's participation, and to ensure that they have access to good quality eye health services. The project through its various activities will continue to promote a culture of women participation both as providers and beneficiaries, empower them to bring a positive change to the eye care scenario.

Sumrana Yasmin
Regional Director, South East Asia & Eastern Mediterranean
Brien Holden Vision Institute
s.yasmin@brienholdenvision.org