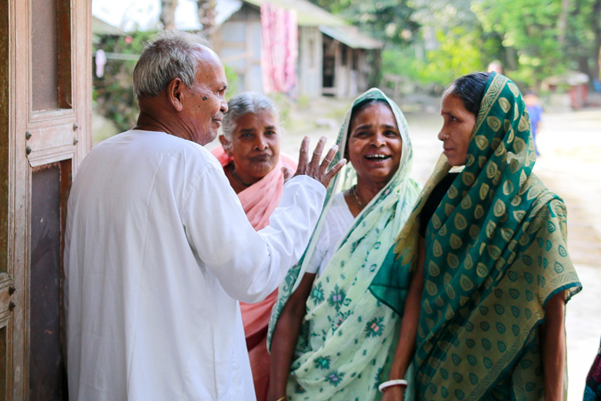 The Fred Hollows Foundation Bangladesh
By the end of the one and a half years of operation, this project has achieved several milestones. Our journey of making eye health services more gender equitable has taken a big leap as we have produced a comprehensive Gender Strategy and a Social Behaviour Change Communication (SBCC) strategy, with the assistance of a renowned Gender specialist, Dr. Ferdousi Begum.
These strategies have reflected the valuable inputs from the KAP study, Gender Analysis and Gender barrier Matrix conducted in the last reporting period. In honour of International Women's Day, a special eye camp was organised for the Marginalised Dalit Women from Bakerganj, Barisal. Later, cataract patients identified from that camp were taken to a partner hospital and provided with free surgery.
Gender innovative strategies are currently being implemented throughout the project area. Reflecting on the comprehensive gender strategy, Primary eye care orientation is being provided to pharmacists as they are the primary contact point for a major portion of the rural patients.
Our evidence and field experiences show that a lot of cataract patients face post-operative complications in their eyes as they do not follow the post-operative instructions properly, and the ophthalmologists do not provide adequate information assuming, that they already know. To address this information gap, a video has been produced showcasing the Dos and Do nots for a post-operative patient. This video will be shown in the waiting room televisions in the partner hospital so that patients and the relatives know about the post-operative instructions. The ophthalmologists and other medical personnel involved with the process will be encouraged to provide additional information regarding post-operative situation.
A gender focused patient satisfaction survey was trialled in partner hospitals. The results from these surveys will be analysed and recommendations will be applied in the partner hospitals to make the services more comfortably accessible and more gender equitable for the patients.
Future Plans: The next few years will see the implementation of more innovative gender strategies that are currently being planned, based on Gender Analysis, best practices and lessons learned. The Gender Strategy and SBCC strategy will be further implemented across the entire project area. Referral systems will be further strengthened by including pharmacists and other non-conventional healers as information and reference points. Counselling will be done to not only the patients but also the family members for more frequent service uptake among women.

Sakib Bin Rashid
Project Officer
The Fred Hollows Foundation Bangladesh
srashid@hollows.org