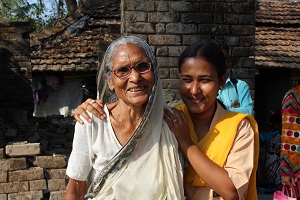 Sunderbans Eye Health Service Strengthening 5-year project has completed 18 months of implementation. The project has a unique monitoring feature, using the Geographical Information System (popularly known as GIS).
Sunderbans is a complex geographical area spread over 2 districts of West Bengal, covering 19 administrative blocks. It is an archipelago of 106 islands, of which 52 are inhabited with a population of 4.7 million and the rest is reserved forest area. The region is inundated with rivers of different volumes and sizes flowing in the Bay of Bengal.
In order to analyse the reach of the project, and to monitor its effectiveness and gaps in implementation, GIS is an excellent tool. For example, there are 15 vision centres set up by the project.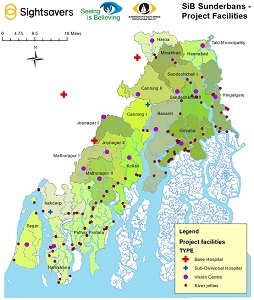 Through a robust Monitoring Information System (MIS), the patient records of people visiting the vision centres will be captured.
With this data uploaded on a map, the project team can visually locate the areas (villages) from where more patients are coming and other areas from where fewer come. This means that appropriate areas can be targeted to increase the footfall. A similar analysis will be conducted on reach of cataract surgeries, referrals made and uptake of services, gender and so on.
A sample map has already been created, locating the vision centres, base hospitals, river networks and ferry points. As the project progresses, output data will be collected in a systematic manner, entered on the GIS platform and converted into maps for monitoring and planning of future activities. The analysis will reveal the effectiveness and reach of the project for years to come.

Sameera Ahmed
Programme Officer, Sightsavers India
sahmed@sightsavers.org