The Fred Hollows Foundation Bangladesh, as part of the Seeing in Believing Phase V initiative, is implementing a four-year project titled 'Building Gender Equitable Eye Health Systems in Barisal Division' through Public Private Partnership. This year marked the completion of the first year of operation.
Knowledge Attitude & Practice (KAP) Survey
A KAP Survey was conducted earlier in the year following a mixed method approach, with a sample of 2,400 households, divided proportionately among all six districts of Barisal Division.
Consequently, a dissemination workshop was organized which was well attended by public and private sector partners, including representatives from National Institute of Ophthalmology & Hospital, Divisional Health Director of Barisal, district Civil Surgeons, Ophthalmologists and Management staff from partner hospitals, International Non-Governmental Organizations (INGOs) and representatives from Standard Chartered Bank. This workshop validated the KAP Survey findings, and saw impressive participant engagement.
Findings
Particularly for women, there was a larger gap in knowledge not only about eye diseases, its causes, symptoms and cures, but also about available eye health services (availability, location, time and cost). Eye care needs of women are neglected, in many cases by women themselves.
This is because in most cases men are the sole earning members of their families, and women think it is logical to sacrifice their needs so that the vision of their male family members is not threatened. Financial constraints were one of the key barriers, because money had to be spent on travel and accommodation of the patient as well as an accompanying person.
Transportation within Barisal Division is very challenging and time consuming, as there are usually multiple riverways and roads to be crossed – Barisal being one of the world's largest deltas with many rivers. In many cases, overnight stay is required, and women have to depend on their sons or husbands to accompany them for overnight stays.
Age plays a big role for women in terms of receiving treatment. The older a woman gets, the less chance that she would have her eyes treated.
More women than men visit pharmacists or general practitioners to seek eye care treatment. In Barisal Division, although the prevalence of eye diseases (including cataract) is more among women than men (15.3% vs 11.4%), the percentage of women receiving treatment is much lower than that of men.
Gender Analysis
As per project plan, a Gender Analysis was undertaken based on the findings from the KAP Survey. Here, women's demand and supply side constraints in accessing and utilizing eye care services in Barisal Division were identified.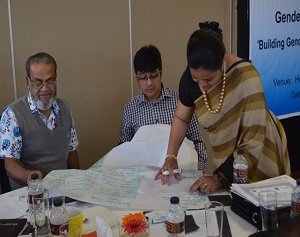 The aforementioned partners and stakeholders met again in a Gender Analysis Workshop, along with representatives from a Social Communication Agency. Careful considerations were made when devising the Gender Analysis workshop methodologies and research translation process to ensure an effective and fruitful workshop.
In this workshop, participants were presented with the preliminary Gender Analysis. Participants took part in group activities to discuss a specific gender barrier, mitigation techniques, innovative gender strategies that may be implemented through the project, and specific communication messages for specific actors.
Subsequently, project staff, a Gender Consultant and the Creative team of the Social Communication Agency held workshops to develop a more detailed plan. Here, mitigation techniques were further broken down by tasks and local implementing organizations were identified.
Gender sensitive and focused communication messages, channel, media, activation type, timing, location and venue were identified for specific target groups. This plan was shared at an INGO Forum and drew much appreciation – it will be used by some of the INGOs to mainstream gender in their own project locations in Bangladesh.
Implementation of Innovative Gender Strategies
Based on the Gender Analysis, innovative strategies are already being implemented.
Since women seek eye care advice and treatment from pharmacists, a detailed pharmacy mapping has been carried out based on which communication kit will be developed. Pharmacists will be oriented on basic eye care, common disease symptoms and referral pathway.
Since women above forty neglect their eye conditions and are more prone to acquiring cataract, Focus Group Discussions with different elderly women's groups have been conducted to provide eye care orientation and motivate them to uptake services.
Male family members of female patients will also be engaged during patient counselling session and different awareness raising sessions.
Public hospital partners, mostly frequented by rural and poor women, now have separate seating arrangements for women in the Eye Out Patient Department (OPD) to make their waiting time more comfortable.
Separate post-operative wards have been allocated for women by hospital administration.
Similarly, electronic token systems have been introduced in the public hospitals which would previously see men pushing women out of long queues to receive services first. Doctors can now see female and male patients alternatively and thereby ensure a more gender equitable service delivery.
For the first time, public district hospitals will provide an infant nursing corner in the eye departments to make life easier for new mothers while they wait for services.
Future Plans 
The next few years will see implementation of more innovative gender strategies that are being planned at the moment, based on the Gender Analysis, best practices and lessons learned.
The series of workshops and documents will form the basis of a Behaviour Change Communication (BCC) Strategy which is being developed for the project. The BCC Strategy will be a working document, and will be updated to include other innovative gender strategies, lessons learned, best practices, risks and challenges from time to time, during project period.

Zara Khair
Program Coordinator,
The Fred Hollows Foundation, Bangladesh
zakhair@hollows.org