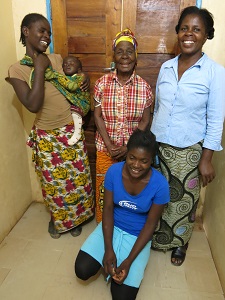 ORBIS Africa's commitment to reduce avoidable blindness in the North-Western Province (NWP) of Zambia is largely being achieved through effective collaboration with key stakeholders. The Memoranda of Understanding that ORBIS Africa signed with our primary partner in the province, the Ministry of Health (MOH) of the NWP and Vision Aid Overseas formalised a robust partner relationship that would lay the foundation for tailored implementation to address the eye health needs of the population despite the limitations of the existing healthcare system.
The success of the SiB programme lies in the fact that it has been integrated into the provincial health programme via Public Health and Clinical Care Units ensuring that eye health importance is shared amongst other patient health networks and awareness campaigns.
The MOH, through the Provincial Medical Office, has played an integral role in the implementation of the SiB programme. MOH's assistance with the project through supporting outreach, training and publicity not only led to cost sharing but has enabled the programme to access more communities.
This commitment from government has helped to strengthen the programme ownership within the health system. The strengthened partnership between ORBIS Africa and MOH assures the continuity of SiB activities long after the funding cycle.
Reshma Dabideen