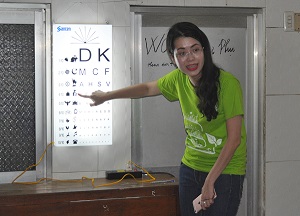 On the occasion of the project launch, a volunteer activity was organized for the bank's leaders and staff to perform eye checkups for children at Can Tho Children's Hospital.
In order to assist doctors to perform eye examinations, the bank's staff members were trained in basic knowledge of childhood eye problems, including how to identify the conditions and conduct vision testing. This training for the volunteers was adopted from the pediatric primary health care training course.
With the knowledge and practical skills learned on the one-day training course, the bank's staff were able to handle patient flows, conduct the vision acuity test, convey communication messages, and consult with the patients' parents on treatments needed and regular eye checkups. Nearly 100 children had eye examinations and 10 premature babies at risk of premature retinopathy were screened on the volunteer day.
Through the exercise, the desire and commitment of the bank's staff to contribute to eliminating childhood blindness increased, reinforcing their belief that 'Seeing is believing'.