Zambians have to overcome multiple socioeconomic, cultural and existential obstacles to prevent childhood blindness due to cataract. The timing of cataract surgery in children is critical as vision never develops normally if surgery is delayed for an extended period. Fortunately for Graham he received the care he needed in time because of a Seeing is Believing funded outreach at Mwinilunga District Hospital in the North Western Province.
5 year old Graham had poor vision from birth but his mother put it down to harmless infections. She also believed that the opaque colour of his eyes was a family inheritance. When Graham's eyes became severely infected she took him to a local clinic where he was sent home with eye drops. Still his cataracts remained undiagnosed.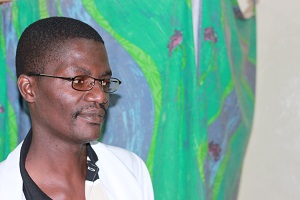 For years little Graham played quietly near to his mom and he was unable to attend school as a result of his poor vision. It was only when Graham contracted malaria and was taken to Mwinilunga District Hospital 120kms from their home that his cataracts were diagnosed at the SiB outreach.
Graham was referred to the Kitwe Eye Annex where he received sight-saving cataract surgery and can finally play and run just like any other adventurous little boy. SiB funding is strengthening the referral network that exists between the North Western and Copperbelt provinces.
It is important to note that the mother didn't know what was wrong with her child's eye until she took him to hospital for malaria and was met by the cataract surgeon who informed her of the condition and spent time explaining the importance of surgery and that her child's eye sight could be restored.
This lack of knowledge amongst caregivers is not unique to this region.
Therefore Orbis has conducted research on barriers in both South Africa and Zambia (Kitwe) and the Data from an Orbis Africa research study is being used to draft new policy for the organisation's sight saving work, as well as to produce innovative media for pioneering awareness of eye disease to ensure that other children never have to wait as long as Graham did to see the world around them.
Reshma Dabideen
Director of Programme Development, Orbis Africa