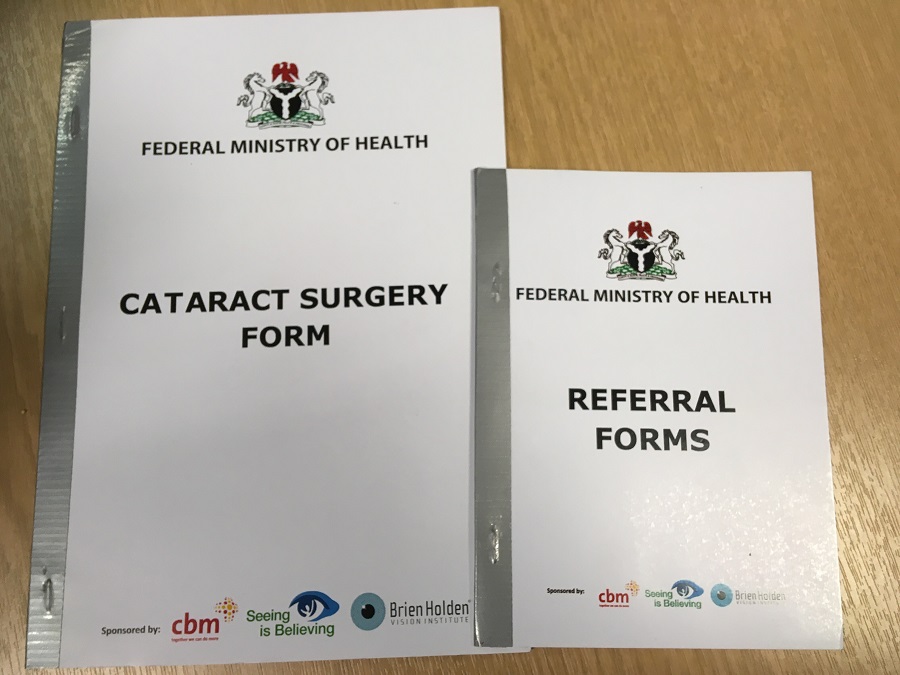 The CBM led Comprehensive Child Eye Health in Nigeria (CCEHiN), Seeing is Believing (SiB) Nigeria programme recently supported the Federal Government of Nigeria through the National Eye Health Programme (NEHP) to develop eye health indicators and HMIS tools for use in eye health data collection. Prior to the commencement of the SiB Nigeria programme, eye health data was not readily available for programme planning or to guide implementation of evidence–based advocacy in Nigeria because the existing National tools for data collection did not have a component on eye health. Partners working in eye health had a fragmented approach for collecting and reporting data for funders; using different tools for different partners, no coordination, unification or linkage. SiB Nigeria, at inception, noted these gaps and one of the key priorities of the programme was to support the strengthening of the National Health Information Management System (HIMS) for the capturing and dissemination of child eye health data. It was recognised that the availability of accurate data  would help to monitor programme progress  and expand evidence for child eye health practice, policy and funding.
SiB Nigeria initiated a series of advocacy visits to the Federal Ministry of Health, Department of Planning, Research and Statistics and used every available opportunity to reiterate the importance and urgent need for Nigeria to develop an eye health policy, indicators and data collection tools in the country.
The SiB Nigeria programme worked to develop its programme indicators and with eye health stakeholders to develop HMIS tools including registers and referral and data summary forms to help in the collection and reporting of data generated from the implementation of SiB activities in Nigeria.
Through the advocacy of  eye health stakeholders in Nigeria, a new leadership was appointed for the National Eye Health Programme by the Government of Nigeria (GoN), following which SiB Nigeria initiated discussions with the newly appointed National Eye Health Programme Coordinator on key eye health interventions that will have positive bearing on the overall eye health programme in Nigeria. Highlighted issues to be addressed included:
To develop a national eye health policy
Finalise eye health indicators
Develop HMIS tools for eye health data collection in Nigeria
Create and deploy the eye health dataset on the staging server
Create an interactive dashboard for eye health indicators
Provision of logins for identified eye health staffs and partners
Create and include LMIS (Logistic Management Information System) for monitoring of eye health commodities on the DHIS2 platform
Monitoring and evaluation of process and expansion
The National Eye Health Programme Coordinator requested that the sample indicators and eye health data collection tools be developed under the SiB Nigeria programme and shared with the National Coordination Unit and the Department of Health Planning, Research and Statistics of the FMoH.
In order to move the indicators and HMIS tool development agenda forward, the SiB Nigeria programme, the NEHP Coordination Unit and Department of Health Planning, Research and Statistics and eye health stakeholders had a series of planning meetings where it was agreed that eye health indicators and HMIS tools should be developed to conform with the World Health Organization (WHO) requirements.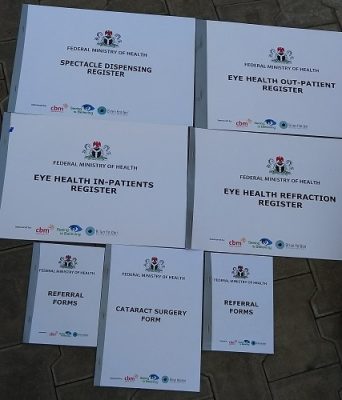 SiB Nigeria, in partnership with the NEHP, and eye health stakeholders in Nigeria finalised the eye health indicators by adapting and developing the SiB eye health data tools through several workshops. The tools were disaggregated by age, gender and disability types and will be used to generate data on daily attendance, eye screening, refraction, laser treatment, surgeries, in-patient, out-patients and in and out referrals. A monthly summary of all eye health services rendered at the various levels of care including the communities was also developed.
The SiB Nigeria programme supported the NEHP of the FMoH to field test and finalise the HMIS tools, printed seed copies for use during the next six months and for dissemination to eye health stakeholders including public and private eye health practitioners in Nigeria during the closeout phase.
Upon completion the eye health indicators were integrated into the National Strategic Health Development Plan (NSHDP) II (2018-2022) and the National Indicator Dictionary (NID). Most importantly, server hosting is ongoing and after six months the eye health data set will be finally migrated into the National instance and continued to be reported on the District Health Information System (DHIS) platform which collates all health service data in Nigeria.
Since the tools were developed with involvement of the wider eye health stakeholders group and already integrated into national DHIS platform, it implies that eye health practitioners in Nigeria will not only be compelled to use the tools to collect eye care service delivery data but the data will be analysed and made available to service providers and programme planners to use in planning across Nigeria.
Going forward, accurate data will be shared with WHO and donors depicting the level of coverage and the exact state of eye health situation in Nigeria. These efforts have yielded positive results and addressed the fragmented system of data collection.. With training on Data Demand and Use (DDU) being planned for health care workers and policy makers, if time and funds permits, it is hoped that quality eye care service data will be generated, made available and continue to be used to inform planning and programming in Nigeria.

Author name:  Dr Juliana Nathaniel
Author email:  Juliana.nathaniel@cbm.orgAuthor
Job title:  Programme Director SiB Nigeria, CBM