In Inner Mongolia, many people are not able to access basic eye health services due to poverty, a lack of public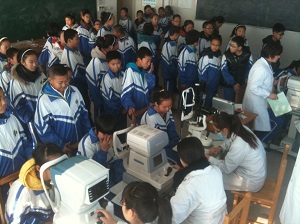 transportation and low awareness of avoidable blindness. In addition, the current primary health services are limited and do not include primary eye care and community referral services are seriously lacking due to limited training or facilities for providing eye care services.
There is a crucial need to increase the knowledge and skills at community levels to facilitate prevention, early detection and treatment for eye diseases. The large number of ethnic minority groups and people living in remote locations also requires specific approaches to address health seeking and cultural barriers these groups face.
Under these circumstances, the project has explored a method of ensuring continuity of care.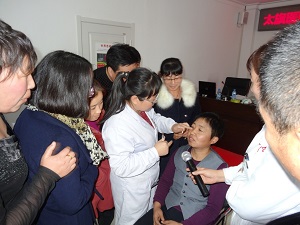 Firstly, the ToT training for staff from county hospitals to equip them to be able to provide primary eye health training for village doctors at the community/village level. There were 24 PEC trainers trained and from 8 project hospitals.
Secondly, there were 735 village doctors trained on primary eye health and common eye disease diagnosis and minor treatment. With this project intervention, local people can get basic eye health treatment in their village, within an accessible distance and under affordable rates. Village doctors can also provide referral to higher level hospitals if they are not able to diagnose complex eye diseases.
Meanwhile, village doctors have also take a role in educating local people about eye health. In the project period, it is planned for 2,450 village doctors to be trained, with a coverage of 77% of the population in Inner Mongolia.
Dr. Zhang Guisen,
Head of DR Project Partner from Chaoju Eye Hospital,
Inner Mongolia Autonomy Region,
zhangguisen76@sohu.com

Ms. Amanda Huang,
Senior Manager of The Fred Hollows Foundation China Program

Ms. Ming Ni,
Senior Officer of The Fred Hollows Foundation China Program