Training of Primary Health Workers (PHWs) – This training has increased the capacity of PHWs from the health facilities to mobilise and provide primary level eye care services to their respective communities.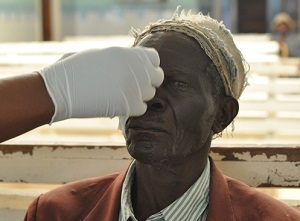 Dr Erick Bakuza, the Singida Rural District Medical Officer when closing one of the sessions for the Primary Health Care Training, in his district said 'I will continue to educate people and create awareness of eye health during community meetings and I am proud to close this training at my district. I believe it is a very good training in our effort to achieve the elimination of avoidable blindness in this district. I'm also thankful for Sightsavers and our donors for their support in my district'.
Right now, he is working with his team to ensure that people are aware of eye care health and is gearing up for the next outreach event at his district.

Koronel Kema
kkema@sightsavers.org
Programme Manager
Sightsavers Tanzania