South East Asia and Western Pacific Regional Webinar

Want to know how SEVA used a Mentor-Mentee Hospital model to enhance the delivery of quality eye care, resulting in a direct increase in restored sight of people? A model that was delivered across 5 mentors and 50 mentee hospitals in India.
Interested in how Fred Hollows Foundation succeeded in establishing comprehensive rural eye care services in China by strengthening the capacity of service providers at county level hospitals?
Join us for this exciting webinar to hear first hand about the cumulative impact SiB funded projects have had in scaling up comprehensive quality eye care services whilst also addressing sustainability  in India and China.
Kuldeep Singh, Regional Programme Manager from SEVA and Fred Hollows Foundation Programme Manager, Ms. NI Ming, will share the impact of their projects and invite questions from participants on how we can learn from and replicate their success. They will be joined by IAPB's WP Regional Programme Manager, Drew Keys.
Africa Regional Webinar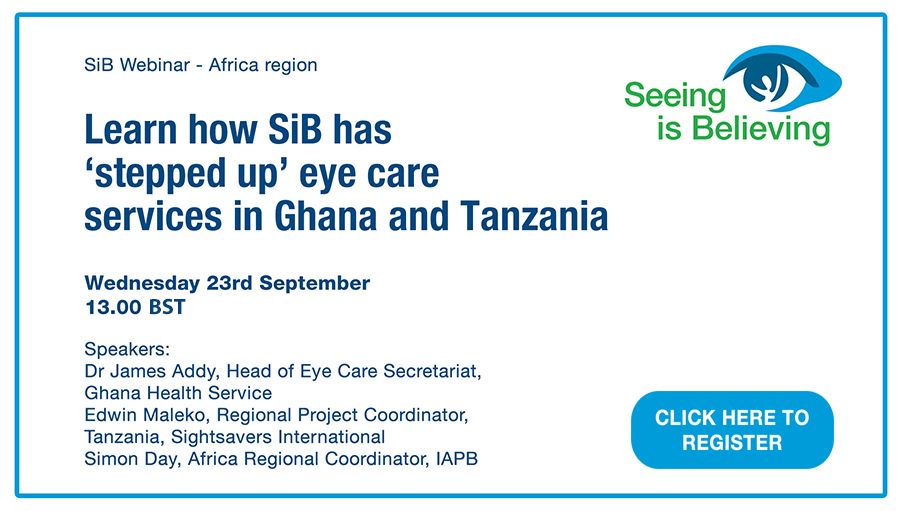 Join us to learn about two SiB African projects with different approaches in supporting sustainable eye care services on opposite sides of the continent.
Ghana selected thirty-five districts across 10 regions to demonstrate functioning, integrated, replicable and sustainable models, focusing on the integration of primary eye care (PEC) within their primary health care (PHC) services.
In Tanzania the project focused on one region to develop the sustainable provision of eye care services for all seven districts across the Region. In this project demand creation and improvements in current delivery mechanisms were addressed.
We are thrilled to have Dr James Addy, Head of Eye Care Secretariat in the Ghana Health Service, and Edwin Maleko, Regional Project Coordinator from Sightsavers International, plus our very own Simon Day IAPB's Africa Regional Coordinator to provide a thought-provoking webinar for Africa and beyond.