Sightsavers Zambia Country office had been Implementing a Phase IV Seeing is Believing programme from July 2009 to June 2014. Over the last five years, the Seeing is Believing Programme had been providing comprehensive eye services to poor people in rural parts of Lusaka and the Southern provinces.
During the five years, the project built the capacity of district health teams in the planning and delivery of quality eye care services and also invested in developing the human resource, physical infrastructure, and supply of consumables. Because of these investments, eye care services have been provided to communities that would otherwise not access such services because of distance and other barriers. For example, as a result of the investment in Human Resources, the programme managed to screen a total of 267,725 adults against the target of 200,000.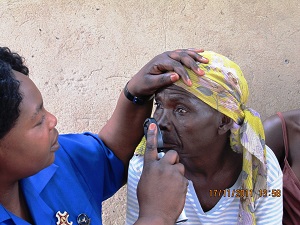 People turned out in numbers during the screening events organised by the partners, Sightsavers and the local Standard Chartered Bank. In addition, 64,079 children against a target of 12,720 were screened which clearly showed a 50% increase in children screened from base year.
As screenings and awareness raising activities increased, the number of people who received intervention of their eye conditions such as cataracts also increased, the programme conducted a total of 10,815 cataracts, against a target of 10, 614.
Because of the investment in Human Resource and building capacity of the District Health teams, the project saw an increase of people refracted and dispensed with glasses. A total of 77,287 adults and children were refracted against a target of 50,700 and 29,016 spectacles were dispensed.
All the above targets were achieved and exceed owing to the number of strategies that the programme employed such as the strategic partnerships with Mwami Mission Hospital and Zimba Mission Hospital and also building the capacity of the districts health teams through training and annual reviews of the programme.
The project not only reached a higher number of people within the boundaries of the project but also this collaboration ensured that awareness messages on the eye health services available in the project area where communicated to the communities through various means such as the community radio stations that were also used to raise awareness on eye health.
Glenda Mulenga
Sightsavers Zambia