Strengthening partnerships towards Vision 2020-Sightsavers partnership with Merck Fellowship for Global Health
Sightsavers works in partnership with a range of different organisations in delivering its mission and vision. One of such partnerships is with the Merck Fellowship for Global Health. Previously Sightsavers relationship with Merck is largely focused on their drug donation programme. We have accessed free Mectizan donations to support our NTD work.
We have recently taken our relationship with Merck a step further by working with them on their Fellowship programme. The fellowship is a "field-based corporate pro bono program that transforms highly-qualified Merck and MSD employees into Fellows who help not-for-profit organizations fulfil their missions"
Through a successful application process Sightsavers is one of top ten organisations selected to be sent three Fellows with a range of expertise, experience and skills from different field. The three months fellowship programme which starts in August through to October 2016, will support our Seeing is Believing project in the Singida region, Tanzania.
Specifically, the fellows will work in collaboration with Sightsavers team in Tanzania and global as well as with relevant local stakeholders to amongst other things:
· develop strategies and techniques to increase demand for eye care services equally for men and women;
· deliver key consumer insights and identify target segment(s) to shape an integrated social marketing campaign in Tanzania;
· deliver a demand generation package/toolkit for Sightsavers in order to replicate the process across other countries in Africa
Some key outcomes from the process will include but not limited to:
· increased demand for cataract surgeries and spectacles equally from men and women in target communities;
· Sightsavers Tanzania social marketing campaign will be shaped by consumer insights and effective segmentation and;
· a demand generation package/toolkit is delivered which can be replicated in other Africa countries.
Sightsavers is excited about this partnership and would be looking to maximise the opportunity and documenting learning.

Charity Dandak
Institutional Funding Manager
Sightsavers UK
---

Sightsavers Pakistan – Advocacy
A joint seminar was organized by National Program for Prevention and Control of Blindness, Standard Chartered and Sightsavers in November 2015 in Islamabad to highlight the role of Seeing is Believing campaign of the Bank in reducing blindness from Pakistan.
The event was chaired by Mrs Saira Afzal Tarar, Minister of the State for National Health Services, Regulations and Coordination, (MoNHSRC). CEOs of Sightsavers and Standard Chartered Pakistan, National and Provincial Coordinators of National Program for Prevention of Blindness, representatives from UN and civil society attended the event.
The Minister endorsed that efforts of Sightsavers, IAPB and Standard Chartered through 'Seeing is Believing' are in line with the policy & priorities of the government, Vision-2020 and Global Action Plan for Avoidable Blindness, approved by WHO Assembly.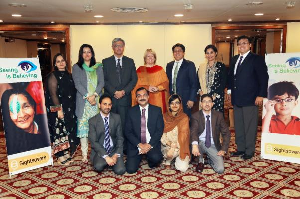 Sightsavers CEO, Dr Caroline Harper (pictured centre), with Standard Chartered Bank (CEO to her left) and National Coordinator for Prevention and Control of Blindness Programme (to her right)
She highly commended the remarkable achievement of SiB Ph IV 'Pakistan Urban Pediatric Eye Care (PUPEC) project' and expressed satisfaction over screening of 1.5 million school aged children in five cities.
She also appreciated the efforts of CEO Sightsavers and Standard Chartered Pakistan for launching the new eye care programs in country including "Strengthening Pakistan Response to Diabetic Retinopathy" and upcoming project "New Vision of Eye Health in Pakistan Khyber Pakhtunkhwa Province".
She expressed the hope that the results of these projects shall bear fruits through improved services. She reiterated the health ministry's commitment for efficient implementation of all projects related to prevention of blindness.
Both CEOs of Sightsavers and Standard Chartered re-assured their continuous support to the ministry for avoidable blindness and expressed gratitude for recognition of their contribution.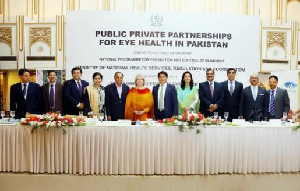 Sigthsavers CEO and Standard Chartered Pakistan celebrating the end of phase 4 and beginning of phase 5 tranche 3 Seeing is Believing programmes in Pakistan.
Speaking at the occasion the National Coordinator of National Program for Prevention of Blindness acknowledged the generous support provided by international organizations particularly Sightsavers, Standard Chartered, and International Agency for Prevention of Blindness for this remarkable reduction that falls from 1.78% in 1989 to 0.9%. The event was given with a fabulous coverage in print and electronic media.
Sightsavers Pakistan Country Office is committed to capitalize on this successful event and has been engaged with the health department through national program. As a part of its advocacy initiatives, CEO along with country office team had a meeting with provincial health secretary, Punjab. Provincial secretary has emphasized on the need of a strong school health program in Punjab.

Itfaq Khaliq Khan,
Programme Officer,
Sightsavers Pakistan Country Office