Experience is the teacher of all things: Strengthening Pakistan's response to Diabetic Retinopathy
The main purpose of the project is to prevent visual impairment due to Diabetic Retinopathy (DR) through early detection, regular follow-up and appropriate management of Sight Threating (ST) DR among known diabetics. The project is now in its third year.
From the start of project, it was observed that having services within the same premises does not always prevent diabetic patients from dropping out after being referred from the medical/ diabetes unit to the ophthalmology unit, to undergo DR screening.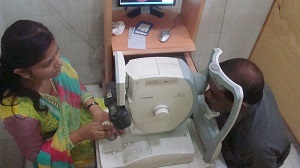 To address this issue, one of our partner hospitals, Al Ibrahim Eye Hospital in Karachi, piloted a 'one window' system in which all services (including registration, visual acuity testing, refraction, DR screening on Non Mediatric Fundus Camera, diagnosis and treatment advice, counselling and diabetes management, laser application and Vitro Retinal Surgery) are carried out under one roof in a chronological order.
The strategy proved to be very beneficial, as the patient flow increased. When patients were interviewed regarding the new intervention, they reported that they found it very efficient and helped them to save time.
A 'one window' system is very relevant for purpose-built health facilities, and can easily be adopted in charity/ private health systems that have autonomy over strategic decisions. However, it may be more challenging to do in public hospitals, as they are not purpose built and have extremely limited authority to make strategic decisions about structural changes.
In order to address these issues in public hospitals, another strategy was introduced. In one of the public hospitals, counsellor is placed at the medical/ diabetes unit so that he can counsel the known diabetic patients and refer them for DR screening. The DR screening room, where the optometrist screens all the referred patients, is adjacent.
In this way, we can ensure that no patient leaves the hospital premises without getting screened for DR.

Leena Ahmed
Program Officer
Sightsavers Pakistan Country Office