Seeing is Believing – Time to See Exibition
On Tuesday evening, John Peace, Bill Winters and I were delighted to host the "Time to See" exhibition at an event at 1 Basinghall Avenue to celebrate Seeing is Believing. We had a great turnout, with lots of our London colleagues, the Board, the MT, and several NGO partners in attendance.
Bill opened the evening by praising Seeing is Believing (SiB). He remarked how SiB started 13 years ago as a modest staff initiative, and has since grown into a comprehensive international campaign, supported not only by our staff but by our clients, business partners and the wider community.
After Bill's remarks, I hosted a panel discussion with two special guests: Dr. Astrid Bonfield, CEO of the Queen Elizabeth Diamond Jubilee Trust and Dr. Andrew Bastawrous, co-founder of Peek.
Astrid talked about the work of the Trust, a charitable foundation established in 2012 to mark HM the Queen's sixty-year contribution to the Commonwealth. She explained how the Trust's mission is to enrich the lives of people from all backgrounds within the Commonwealth by working with partners such as Standard Chartered towards eliminating avoidable blindness and empowering a new generation of young leaders. Astrid also highlighted the scale of avoidable blindness worldwide, noting how, although an estimated 285 million people are currently blind or visually impaired, 80 per cent of blindness and visual impairment is preventable or treatable – often easily and at a relatively low cost. Striking statistics, I'm sure you will agree.
Andrew explained how the idea for Peek (Portable Eye Examination Kit) had come about through his own childhood struggles with vision in the classroom, and his first-hand experience of delivering eye screening programmes in remote locations using expensive, cumbersome equipment. Taken together, these experiences led Andrew into developing Peek: a suite of smartphone-based eye tests that non-medical staff could perform, in the hope that more high-risk individuals could be reached and treated for avoidable blindness. We should all be proud that the SiB Innovation Fund is a big supporter of Peek, which has treated over 300,000 children in Kenya and begun a trial programme in India. You can read more about Peek here.
Both Astrid and Andrew were optimistic that, if organisations join forces and work together, avoidable blindness could soon become a thing of the past. That is inspiring stuff and, through the work of Seeing is Believing, we should all feel a part of that change.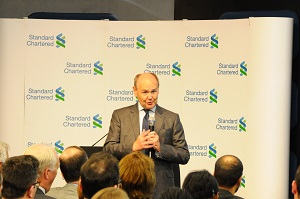 The Chairman wrapped up the discussion by noting how remarkable it is that 4 out of every 5 blind or visually impaired people in the world do not need to be in that condition, when there is something that can be done to restore their sight. He added how Astrid and Andrew's words had resonated with him from what he had seen on his travels, and spoke of how proud he was of Standard Chartered for leading the way in this field.
After the Chairman's comments, the guests were given the chance to view 40 compelling images from the "Time to See" exhibition, which showcases the work SiB is doing in partnership with the Queen Elizabeth Diamond Jubilee Trust across India, Pakistan, Nigeria, Uganda and Kenya to combat avoidable blindness. You can read more about this brilliant exhibition in my previous blog posts, below.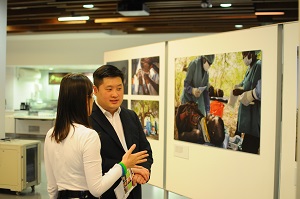 Guests were also able to meet the SiB mascot, Sir SiB, who was on hand to promote Seeing is Believing's new app, "Super SiB" (which Standard Chartered Bank staff can download for free from the SC AppCentre). The aim of the game is to navigate Sir SiB through different environments to reach a SiB vision centre by collecting facts, coins and special objects, whilst overcoming challenges along the way.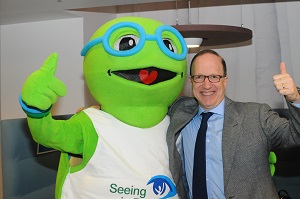 Thank you to everyone who attended the event, and to those who volunteered their time to make it happen. I hope you all found it enlightening and inspiring. Bringing so many people together across all levels of the Bank to celebrate and learn about such a great cause reinforced to me just how important Seeing is Believing is, and will continue to be, in demonstrating that we are Here for good.

David Fein
Group General Counsel and Chairman of Seeing is Believing
Standard Chartered Bank