KATHMANDU CITY
Kathmandu is an incredibly diverse historic city with breath taking Newari architecture, centuries old Hindu and Buddhist religious sites along with dedicated tourist-friendly accommodations and restaurants. Stepping into Kathmandu is like stepping into another world that everybody should experience at least once in their lifetime.
Kathmandu is a city where ancient traditions rub shoulders with the latest technology. The grandeur of the past enchants the visitor whose gaze may linger on an exquisitely carved wooden window frame, an 18th century bronze sculpture or a spiritually uplifting stupa. Kathmandu, the largest city of Nepal, is the political as well as cultural capital of the country.
Like any big city, Kathmandu has seen rapid expansion in the last decade, but despite the hustle and bustle so typical of metropolitan cities, its people remain refreshingly friendly. The city is a warden of its ancestral value "Atithi Devo Bhava" meaning "Guest is equivalent to God".
Retaining its ancient traditions, Kathmandu is blessed by
Living Goddess Kumari
and is enriched by endless ceremonial processions and
events
that take to the streets every now and then with throngs of devotees seeking joy in spiritual celebrations. These religious festivals are steeped in legends and are quite a spectacle with chariot processions and masked dancers often possessed by the spirits of deities.
Kathmandu is a result of diverse culture and lifestyle, a long history of faith and beliefs, and of arts and architecture. Therefore, more than just a city, Kathmandu is a living museum, it is an opportunity to travel back in time and to relive in the history.
WHAT TO SEE IN KATHMANDU
We are currently liaising with the Nepal Convention Bureau to source recommended tour suppliers for delegates to arrange pre-/post-conference tours. This information will be uploaded here as soon as possible before mid-June 2017.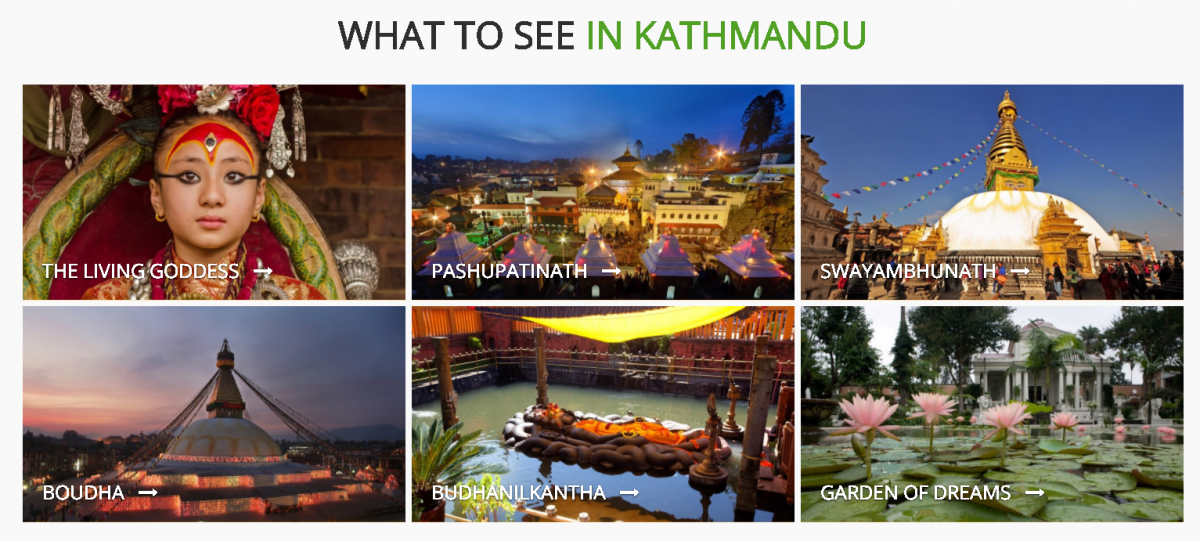 WORLD HERITAGE SITES
There are four UNESCO World Heritage Sites in Nepal. Two are in cultural category and two are in natural category. World Cultural Heritage Sites of Nepal are: Lumbini, the birth place of Lord Buddha, and seven monuments of Kathmandu valley within a radius of 20 km (together counted as one Heritage Site). The World Natural Heritage Sites are Chitwan and Sagarmatha National Parks. Kathmandu valley World Heritage Site comprises of three historical palaces – Kathmandu, Patan and Bhaktapur Durbar Squares; two Buddhist stupas – Swayambhunath and Bauddhanath; and two Hindu temples – Pashupatinath and Changu Narayan. Nepal offers incomparable scope to connoisseurs of art and culture to see and study different aspects of fine arts in its paintings, sculpture, wood carving and architecture.
Nepal's Unique Treasures
Everest – Highest Point on Earth
Kumari – The Living Goddess
Lumbini- Birth Place of Lord Buddha