Operation Eyesight Universal
INTRODUCTION
To achieve the goals of VISION 2020, population-based surveys are crucial to provide an updated assessment of the magnitude and distribution of visual problems, establish local eye care programs and initiate future eye care planning. However, like many other countries, Ghana did not have a nationally representative survey on blindness and visual impairment. To address this, the Ghana National Blindness and Visual Impairment Study was conducted.
The aim of this study was to provide robust national representative data on blindness and visual impairment in Ghana. The main objectives were to estimate the prevalence of moderate visual impairment, severe visual impairment and blindness in the general population by age, sex and zone of residence, as well as to quantify the causes of avoidable blindness.
The survey was conducted between February 2015 and November 2016 in accordance with the codes of conduct of the Declaration of Helsinki. Ethical approval for the study was obtained from the Ghana Health Service Ethical Committee. Informed written, thumb-printed consent was obtained from all participants in the presence of witnesses.
METHODOLOGY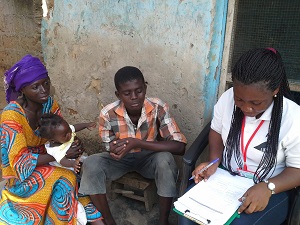 Data collection – As part of the Ghana National Blindness and Visual Impairment Study, select households were interviewed.
Sample Design
The sample design was a two-staged, stratified cluster sample design. The cluster was the Enumeration Area (EA). A sample of 77 EAs was selected using a systematic method, with probability proportional to size (the number of households in each EA) at 95 percent significance level at the first stage.
The sampling units were stratified at the first stage into the two zones: intervention and non-intervention. (Intervention zones are places where blindness prevention programmes have been implemented). Within each zone the sampling units were further stratified into urban and rural areas.
In all, a total of 1,155 households were selected (600 from intervention zones and 555 from non-intervention zones) and 1,138 households were successfully interviewed, representing a 98.5 percent response rate.
The 1,138 completed household interviews resulted in a total of 4,968 individuals eligible for clinical examination, of which 4,574 were successfully clinically examined by the survey team. This represents 92.1 percent coverage of the sampled individuals.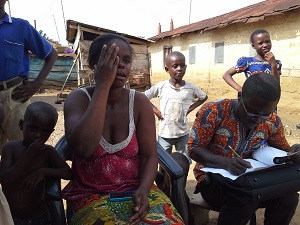 Research team in the field – Both eyes of each member of the selected households were examined by clinical teams.
Clinical Examination
Both eyes of each member of the selected households were examined by three clinical teams, each led by an ophthalmologist. Clinical teams included an optometrist and ophthalmic nurses, who were assisted by an enumeration team which conducted face-to-face interviews using the household questionnaire.
Detailed standard operating procedures were developed for the eye examinations and clinical staff were obliged to follow them.
Visual acuity measurement was conducted by starting from the adult members of the household and working down to the youngest members.
The optometrists/ophthalmic nurses performed basic eye examinations, which included testing the visual acuity of each member of the household.
All survey participants with a visual acuity below 6/12 were tested for refractive error. The eye examination included anterior and posterior segment evaluations. This was to assess the vertical disc ratio and intraocular pressure to determine the cause of blindness and low vision.
Data Management and Statistical Analysis
All study-related forms at the enumeration level were received at the central coordination office, manually checked for completeness and keyed into a database using CSPro statistical software.
Data from the participant interviews, eye examinations and household surveys was linked and incorporated in each data entry template. Data cleaning and analysis were done using SPSS.
RESULTS
Out of a total of 4,968 eligible participants, 4,574 individuals were completely examined and included in the study (a response rate of 92.1%). Among those who were completely examined and included in the study, 2,588 (56.6%) were female.
The study found that 0.74 percent of Ghanaians have visual acuity of less than 3/60 in the better eye with the best possible correction (with pinhole). Additionally, 1.07 percent have severe visual impairment. The age distribution indicates that blindness (<3/60) is positively related to age. For instance, 0.22 percent of people in the age group 30-39 were found to be blind, Best Corrected Vision Acuity. This increased to 0.28 percent among persons in the age group 40-49 and continued to increase as age increased to 19.12 percent among those who were 80 years or older. The sex distribution shows that 0.71 percent of all females were blind (<3/60 best corrected vision acuity) compared to 0.77 percent of their male counterparts. The prevalence of blindness is higher in the rural areas of Ghana (0.79%) than in the urban areas (0.67%).
Cataract (54.8%) was the most common cause of blindness, followed by glaucoma (19.4%). However, the main cause of visual impairment was refractive error (44.4%), followed by cataract (42.2%).
CONCLUSION
In conclusion, the prevalence of blindness and severe visual impairment in Ghana was 0.74% and 1.07% respectively, with cataract, glaucoma and uncorrected refractive error being the major causes. The main intervention strategies to reduce avoidable blindness are cataract surgery, followed by the development of optical and glaucoma services, because these are the most cost-effective interventions.
ACKNOWLEDGEMENTS
The author thanks Standard Chartered Bank, Seeing is Believing, Ghana Health Service, Ghana College of Physicians and Surgeons, Swiss Red Cross and Operation Eyesight Universal for their immense support and contributions.
Article submitted by:

Emmanuel Kwasi Kumah
Country Manager – Ghana
Operation Eyesight Universal

Dr. Boateng Wiafe
Director of Quality and Advocacy
Operation Eyesight Universal

Dr. Isaac Owusu Baffoe
Programme Coordinator – Ghana
Operation Eyesight Universal