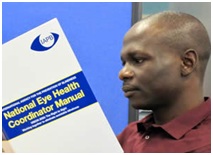 In 2011 IAPB published the National Eye Health Coordinator (NEC) manual. This brought together materials developed for the Capacity Building workshops by KCCO and IAPB Co Chairs and is intended as a stand alone resource for NECs/NPBCs to support them in their daily work.
This manual offers information, guidance and peer experience for National Eye Health Coordinators across the world, supporting them in the daily challenges they face in developing, managing, and facilitating national eye health plans.
Topics covered include: the National Prevention of Blindness Committee (NPBC), organisational structure, job descriptions, VISION 2020 planning, monitoring and reporting, leadership, supervision, team development and conflict resolution advocacy and partnership development.
IAPB is currently producing an Advocacy Guide and Tool Kit which will support IAPB members and their partners to develop their advocacy plans. This programme is supported by Sightsavers.
Access all Learning & Development documents in our Document Library.
See latest Learning & Development media resources in our Video Library.